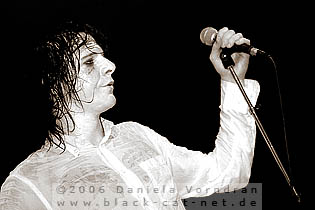 Beware! Europe's glammiest Death Rock band of all,
DEATHSTARS
, is hitting the road again in March and April! After two very successful tours last year – first headlining their way throughout the continent, afterwards supporting mighty
CRADLE OF FILTH
– Sweden's dark yet sparkling sons will be back for more in spring. Be sure to experience the full 48 Carat Darkness tour at the following occasions. See details below!
02.03.2007 MOSCOW - Tochka Club (RUS)
03.03.2007 ST. PETERSBURG - Port Club (RUS)
17.03.2007 THESSALONIKI - Rock Bottom (GR)
18.03.2007 ATHENS - Underworld Club (GR)
29.03.2007 VIENNA - Planet Music (AT)
30.03.2007 GRAZ - Orpheum (AT)
31.03.2007 SALZBURG - Rockhouse (AT)
48 CARAT DARKNESS EURO TOUR 2007 + special guest MORTIIS
02.04.2007 PARIS - La Locomotive (FR)
03.04.2007 BIRMINGHAM - Academy 2 (UK)
04.04.2007 LONDON - Islington Academy (UK)
05.04.2007 NOTTINGHAM - Rockcity (UK)
06.04.2007 MANSFIELD - The Intake Club (UK)
07.04.2007 BRADFORD - Rio (UK)
08.04.2007 GLASGOW - Cathouse (SCO)
09.04.2007 NEWCASTLE - Academy 2 (UK)
10.04.2007 SHEFFIELD - Corporation (UK)
11.04.2007 DUBLIN - Voodoo Lounge (IRL)
12.04.2007 OXFORD - Zodiac (UK)
13.04.2007 LIVERPOOL - Academy 2 (UK)
14.04.2007 STOKE - The Sugarmill (UK)
15.04.2007 MIDDLESBROUGH - Teeside University (UK)
17.04.2007 ESCH/ALZETTE - Rockhal (L)
18.04.2007 PRATTELN - Z7 (CH)
20.04.2007 BOCHUM - Matrix (DE)
21.04.2007 WIEZE - Pestpop/Oktoberhallen (BE)
22.04.2007 ROTTERDAM - Baroeg (NL)
23.04.2007 HANNOVER - Musikzentrum (DE)
25.04.2007 AARHUS - Train (DK)
30.04.2007 BUDAPEST - Gothica Festival/Petöfi Hall (HU)
01.05.2007 MüNCHEN - Backstage (DE)
02.05.2007 DARMSTADT - Steinbruchtheater (DE)
06.07.2007 GEISELWIND - Battle Of Metal Festival (DE)
08.07.2007 TURKU - Ruisrock (FI)
Source: Newsletter
www.nuclearblast.de