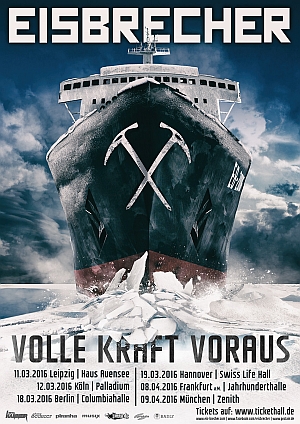 EISBRECHER: "Full Throttle Ahead" ("Volle Kraft Voraus") in direction of double-gold status for 'Die Hölle Muss Warten' as well as for their current album 'Schock'.
"Volle Kraft Voraus" ("Full Throttle Ahead") is more than a tour-motto for them. The rock band EISBRECHER from Munich, Germany, achieved gold status for over 100,000 sold units of their last studio album 'Die Hölle Muss Warten'. Hence the band around charismatic front vocalist Alex Wesselsky is close to reaching double gold, since their current long-player 'Schock' is close to turning into gold.
"We are gold"
was one of the latest posts of EISBRECHER on Facebook.
"This is a dream come true... we may hang a golden record into the machine room of our EISBRECHER! We are flashed! We celebrate this honor like the ice bears celebrate the next ice age. 100,000 thank yous to all our supporters on and off stage. This is fantastic team work! We would like to share our joy with all of you and thought of a decent way to express our gratitude. "
Every visitor of our upcoming "Volle Kraft Voraus" tour will get a free golden CD with an exclusive EISBRECHER track. Starting mid-march EISBRECHER will turn the engines again onto "Full Throttle Ahead" and will play six concerts. The tour is accompanied by the publishing of a new EP.
Metal Hammer + Sonic Seducer + Piranha + Musix + metal.de present:
EISBRECHER - "VOLLE KRAFT VORAUS!"

11.03.2016 Leipzig | Haus Auensee
12.03.2016 Cologne | Palladium
18.03.2016 Berlin | Columbiahalle
19.03.2016 Hanover | Swiss Life Hall
08.04.2016 Frankfurt a.M. | Jahrhunderthalle
09.04.2016 Munich | Zenith
Doors: 18:30 | Start: 20:00
Tickets:
www.tickethall.de