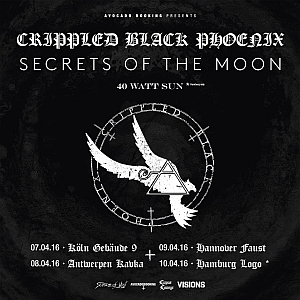 CRIPPLED BLACK PHOENIX are now announcing four new shows in Europe, where they will be joined by German black rockers SECRETS OF THE MOON. The acclaimed dark rockers founded by multi-instrumentalist Justin Greaves have already released four dates with CONVERGE "Blood Moon" and support by 40 WATT SUN. Please see below for details. Ticket sale has already started and we strongly recommend to book early. CONVERGE "Blood Moon" is a collaboration between members Jacob Bannon, Kurt Ballou, Nate Newton, and Ben Koller and guest musicians Chelsea Wolfe, Ben Chisholm, Stephen Brodsky, and Steve von Till. Together as a multi-instrumental group they will create renditions of existing CONVERGE material focusing on the band's slower, more ambitious work within their legendary catalog.
CRIPPLED BLACK PHOENIX Tour
+SECRETS OF THE MOON
07 Apr 16 Köln (DE) Gebäude 9
08 Apr 16 Antwerpen (BE) Kavka
09 Apr 16 Hannover (DE) Faust
10 Apr 16 Hamburg (DE) Logo (+40 WATT SUN)
+CONVERGE "Blood Moon" +40 WATT SUN
11 Apr 16 Berlin (DE) Postbahnhof
12 Apr 16 Reims (FR) La Cartonnerie
13 Apr 16 London (UK) Electric Brixton (+THE BODY +FULL OF HELL)
CRIPPLED BLACK PHOENIX have already released a new EP in advance of their previous European tour in autumn 2015. The release is titled 'New Dark Age Tour EP 2015 A.D.' The EP is still available in carious formats from the Season of Mist shop:
http://smarturl.it/CBPshopEP
Justin Greaves commented: "Our 'New Dark Age' tour EP represents a new chapter in the CRIPPLED BLACK PHOENIX history. I feel like it is time to be truly free of industry and personal bullshit. It also connects what we have gone through as a band with what is going on in the big wide world. It really feels as if we are living in a new 'dark age'. Religious and political oppression, the population being fed constant untruths - all of this reminds me of the priests in the middle ages telling folk about dog-headed monsters living in the woods, but if you repent and join the church, they will protect you. The song 'Spider Island' is more personal. There I mentally put all the bad people... recently there have been a few people who need to go to Spider Island and live a life of torture along with all the other scumbags, who cling to power in the world."
Tracklist
01. Spider Island
02. New Dark Age
03. Echoes PT. 1 (Pink Floyd cover)
04. Echoes PT. 2 (Pink Floyd cover)
CRIPPLED BLACK PHOENIX have confounded critics trying to pin their style down ever since multi-instrumentalist Justin Greaves recorded his first ideas in 2004 – which earned them tagging attempts ranging from "stoner prog" to "freak folk" to "psychedelic doom". With their 'New Dark Age Tour EP 2015 A.D.' the eclectic UK rock band continues to subconsciously draw from influences as diverse as TYPE O NEGATIVE and PINK FLOYD. The latter are receiving a respectful yet unique homage in the shape of a 37-minute cover version of their classic composition "Echoes". Despite the wide range of musical leanings within their album, there are a unifying dark streak and somber melancholy running through the songs. Founder Justin Greaves had already made himself a name as drummer for IRON MONKEY and ELECTRIC WIZARD among others. When the multi-instrumentalist finally decided to stand on his own musical feet, CRIPPLED BLACK PHOENIX were born as a project.
This involves a changing cast of musicians and live set-ups, which mirror the ever ongoing evolution of the band and the fact that the songs were mostly not composed with their live performance on mind. Between 2007 and 2014 a string of five critically highly acclaimed studio albums was released from 'A Love of Shared Disasters' (2007), via 'The Resurrectionists' (2009, 'Night Raider' (2009), '(Mankind) The Crafty Ape' (2012), until 'White Light Generator' (2014). This was complemented by EPs 'I, Vigilante' (2010), 'No Sadness or Farewell' (2012), and 'Oh' Ech-oes' (2015), the live recording 'Live Poznan' (2013), and the '200 Tons of Bad Luck' compilation (2009). While 'New Dark Age Tour EP 2015 A.D.' heralds the band's upcoming tour this autumn,CRIPPLED BLACK PHOENIX are preparing to release their next full-length on Season of Mist.
Line-up
Justin Greaves: guitar, backing vocals, bass (studio), drums (studio)
Daniel Änghede: guitar, vocals
Mark Furnevall: synthesizer, keyboard, organ, backing vocals
Daisy Chapman: piano, keyboard, vocals
Ben Wilsker: drums (live)
Niall Hone: bass
Jonas Stålhammar: guitar, backing vocals
Belinda Kordic: vocals
Source: Press Release