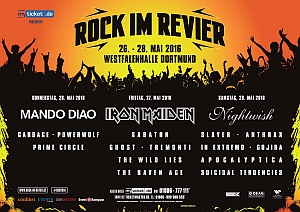 The pre-sale for Rick im Revier, taking place from 26th to 28th May 2016 in Dortmund, starts tomorrow! Details will follow. Three days of loud and hard rock will expect you:
Thursday, 26th May: Mando Diao / Garbage / Powerwolf / Prime Circle
Friday, 27th May: Iron Maiden / Sabaton / Ghost / Tremonti / The Wild Lies / The Raven Age
Saturday, 28th May: Nightwish / Slayer / Anthrax / In Extremo / Gojira / Apocalyptica / Suicidal Tendencies
Also in 2016, rock im Revier will stay in the Ruhr area. As location the promoters chose the Westfallenhalle in Dortmund this year and offer a high-class line-up. For Dortmund, four new bands are confirmed: Scottish Alternative Rock band GARBAGE around singer Shirley Manson, Finnish cello rockers APOCALYPTICA, Hardcore Metal punkers SUICIDAL TENDENCIES and the radio rockers of PRIME CIRCLE from South Africa.
The Heavy Metal grand masters IRON MAIDEN are the highlight of the festival. Besides their show at sold-out Wacken and in Berlin, the band only performs at Rock im Revier and at Rockavaria. The concert is part of their "The Book Of Souls" world tour with concerts in 36 countries on six continents in front of more than 1.5 million fans. Their current album 'The Book Of Souls' it their third Number 1 album in Germany in a row and reached immediately position one of the charts in more than fourty countries. Besides further number one bands like SLAYER, NIGHTWISH, IN EXTREMO and POWERWOLF, Rock im Revier also offers a varied range of bands from various Rock genres, like SABATON, MANDO DIAO or GOJIRA.
Rock im Revier as urban festival will keep all promises: the rickets include free use of public regional transport in the "Verkehrsverbund Rhein-Ruhr". Due to its perfect connection to urban infra-structure, the festival offers furthermore enough parking places and many options for your overnight stay in close surrounding. Further info is available at
www.rock-im-revier.de
.
Source: Press Release