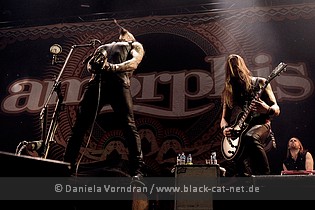 Spring will be melancholy: The Finnish melancholy metal masters AMORPHIS reached great chart positions all around Europe (among others Finland #2, Germany #10, Switzerland #11) after the release of their new record ''Under the Red Cloud'' in September – the Scandinavians will honour us with their new record on tour from March.
OMNIUM GATHERUM and POEM have been confirmed as the support acts. OMNIUM GATHERUM have released their new studio record just now, which has been declared record of the month by the German Metal Hammer magazine.
"We feel super honoured to go on tour together with AMORPHIS",
says the band.
"They are our Finnish heroes and guarantors for death metal magic."
The Greek progressive metal band POEM will start the evening. The Athenians offer a mix of OPETH, KARNIVOOL and TOOL and will release their new record 'Skein Syndrome' on 18th March. The Dutch polyrhythmic metal band TEXTURES had been confirmed for a while now. While OMNIUM GATHERUM will be present at the shows from 6th to 17th March, TEXTURES take over from the 18th to the end of the tour. On the other hand, POEM can be enjoyed for the complete tour.
Only in November did AMORPHIS accompany the symphonic metal gods NIGHTWISH on their "Endless Forms Most Beautiful" Europe tour. AMORPHIS are coming back with an own headliner tour around the blue continent. Guitarist Esa Holopainen:
"The "Under the Red Cloud" world tour began directly after the record release and the tour with NIGHTWISH and ARCH ENEMY has been fantastic so far. Apart from that I am truly enthusiastic that we will make our way through Europe again from March. It will be the longest Europe headliner tour to date for us and we will bring wonderful special guests. It will be incredible. So, see you!"
Source: Press Release