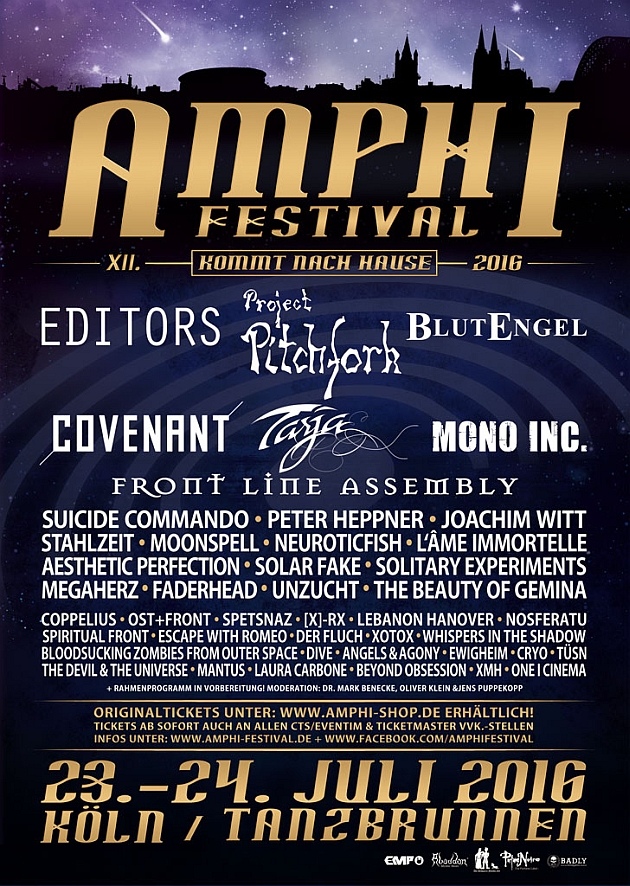 It is the news that spreads like wildfire and it is official:
"AMPHI IS COMING HOME!" THE AMPHI FESTIVAL RETURNS TO TANZBRUNNEN!
The Tanzbrunnen Cologne, which had gotten close to our hearts and characterized the Amphi Festival sustainably from 2006 till 2014 will be available again in 2016. "Home is where the heart is", as the folks say. Therefore we grab the opportunity to return to the place we were forced to leave behind after 2014 due to organisational restrictions, that once held us from continuing the way you all came to love. With coziness and summer open air feeling for example the fountain-lounge will be back, as well as the popular beachclub along with pure holiday feeling. Alongside the open air stage at Tanzbrunnen and the indoor stage at Theater am Tanzbrunnen we prepared another neat surprise:
NEW: ORBIT STAGE AT MS RHEINENERGIE + SECOND PARTY FLOOR
Last year´s Orbit Stage remains faithful to its name as it finds a new home in 2016, rocking the MS RHEINENERGIE. Only for the Amphi Festival, Europes unique event-catamaran will land and stay at the boarding bridge in Cologne-Deutz, just 200 meters from the Tanzbrunnen. During the whole weekend you can see numerous live-shows there, relax on the ship's lavish sun-deck with a large number of seats or dance through the night, since we come to offer an alternative second floor, in addition to the regular after-show party at the Theater. High-class setting meets festivals pleasures! Something you will look forward to...
EARLY SEASON TICKETS SOLD OUT / DAY TICKETS ALSO AVAILABLE NOW
From 2010 till 2014 Amphi Festival at Tanzbrunnen has been sold out every year. For 2016 the number of available tickets will be strictly limited again. Therefore the contingent of early season tickets is sold out! However we are pleased to announce the venue change affecting the price for regular weekend tickets as well, which come without further price increase – on sale now. We also now offer day tickets for Saturday and Sunday! The performing artists of each day are listed in the ticket description at the shop and in the programme section of the website
www.amphi-festival.de.
BANDS
EDITORS | PROJECT PITCHFORK | COVENANT | BLUTENGEL | TARJA | MONO INC. | FRONT LINE ASSEMBLY | SUICIDE COMMANDO | PETER HEPPNER | JOACHIM WITT | STAHLZEIT | MOONSPELL | NEUROTICFISH | L´ÂME IMMORTELLE | AESTHETIC PERFECTION | SOLAR FAKE | SOLITARY EXPERIMENTS | MEGAHERZ | FADERHEAD | UNZUCHT | THE BEAUTY OF GEMINA | COPPELIUS | OST+FRONT | SPETSNAZ | [X]-RX | LEBANON HANOVER | NOSFERATU | SPIRITUAL FRONT ESCAPE WITH ROMEO | DER FLUCH | XOTOX | BLOODSUCKING ZOMBIES FROM OUTER SPACE | DIVE | ANGELS & AGONY | EWIGHEIM | WHISPERS IN THE SHADOW | CRYO | THE DEVIL & THE UNIVERSE | MANTUS | LAURA CARBONE | XMH | ONE I CINEMA + add. artists + supporting programme
Info at:
www.amphi-festival.de
or
www.facebook.com/amphifestival
Source: Newsletter