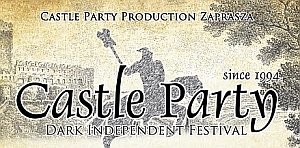 Castle Party - the biggest dark and alternative Festival in the Middle-Eastern Europe! The Polish answer to The Whitby Gothic Weekend! Based in a small town in South-West Poland, with gigs taking place in a beautiful, medieval Castle and... in a former church, The Castle Party is your new destination on a must-visit festivals' map this summer!
Have you ever thought of being part of a Gothic Pool Party? Stayed in a town full of people dressed like you and thinking like you - a town that never sleeps? Does a pint of beer for less than a pound appeal to you? Are you a fan of the darker sounds? Then the Castle Party is definitely a place for you to visit this summer! The Festival has been going for over 20 years. In the past, the festival had headliners such as Moonspell, Lacrimosa, Paradise Lost, New Model Army. This year they have Fields of The Nephilim!!
But it's not just Fields. The full line-up is
Fields of the Nephilim / Closterkeller / Clan of Xymox / Xandria / De/Vision / Garden of Delight / Moonlight / Deathcamp Project / Leæther Strip / Absolute Body Control / Skeletal Family / XIII. století / Blindead / Two Witches / Furia / In Mourning / Das Moon / The Cuts / Alien Vampires / Radogost / Desiderii Marginis / In Slaughter Natives / The Spiritual Bat / Near Earth Orbit / The Devil & The Universe / Nordvargr / Reactor7x / PHURPA / Obszön Geschöpf / Larva / Cemetery of Scream / Outre / Sacrilegium / Mordor / Sexy Suicide / This Cold / Nonamen / Evidence Based Medicine / Dogs in Trees / Tranquilizer / Bisclaveret / Moanaa / Antiflesh / Dead Factory / Madmancircus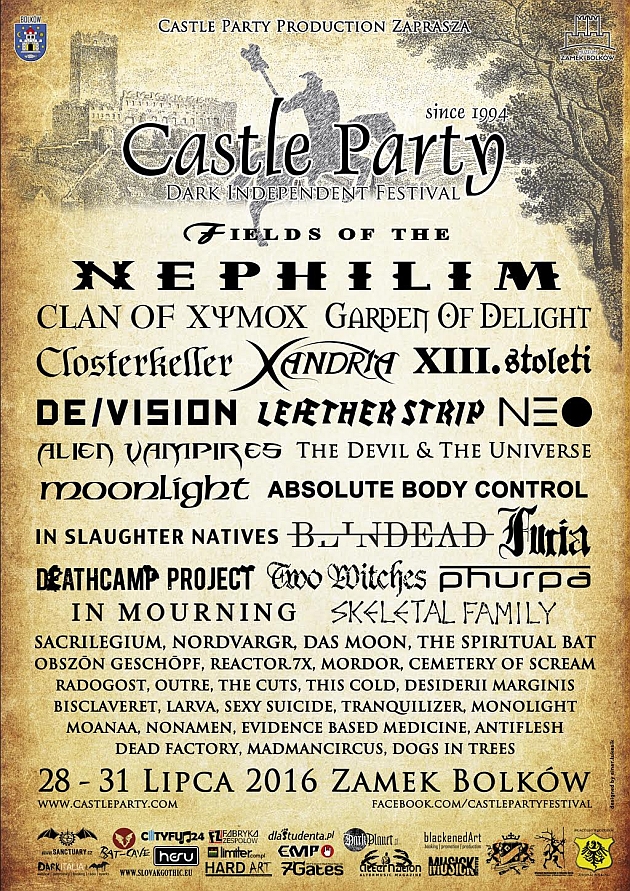 So, we are sure you'll be temped! The festival's regular visitors from Germany, Ukraine, Czech Republic, Russia, Slovakia, Holland, England, Belgium or even Japan, States or Brazil cannot be wrong - they fell in love with the Castle Party and so will you!
What else can we say about the festival... Bolkow Castle is based about 80km from Wrocław Airport and not far from Berlin, Prague, Poznan. Ryanair, easyJet, Wizzair all fly there - if you book now, it will cost pennies!! There are regular buses from all the major airports to Bolkow or nearby! The regular festival-goers often offer lifts - just look at the Castle Party forum! Accommodation-wise - there is a campsite for less than two pints of beer in the local pub a night (with showers, electricity plug, a swimming pool and a 24/7 pub with goth DJs), there are also private flats/ rooms going really cheap, private campsites - so you will be spoilt for choice!!
Castle Party is not just gigs at the Castle or in the church. For those four days, the usually sleepy town of Bolkow never sleeps - there are afterparties until dawn, pool parties, drinking, partying at the town square, dressing up to impress, 24/7 Party at the campsite. You will love it - we promise!!
Come and visit the festival - talk to the promoters, if you have any doubts about the festival, they will put you at ease! They don't bite (unless you want them :)) and they speak English :) Let's make it big this year again! For all information visit
www.castleparty.com
or contact
This email address is being protected from spambots. You need JavaScript enabled to view it.
Source: Press Release