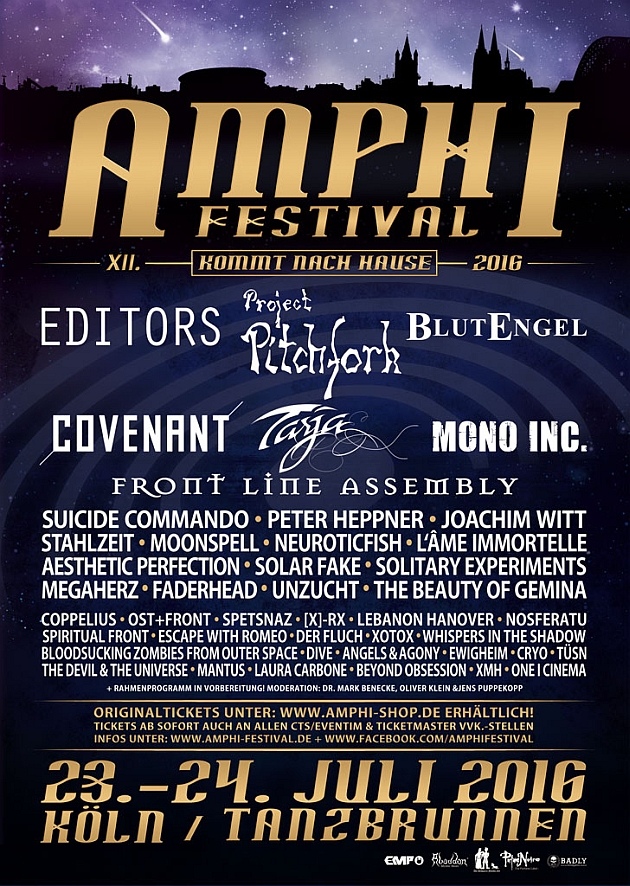 In less than 2 months, it will be time again for the Amphi Festival 2016. Thus we take the opportunity today to complete the programme with the final missing bands TÜSN and BEYOND OBSESSION!
TÜSN are Berlin-based Snöt, Tomas and Daniel. They are synthesizer, bass and drums - no guitars but a lot of poetry. Their lyrics originate from their innermost. Raw and archaic they explore the abysmal sides of human existence, destined for the lost and the other. TÜSN are like Depeche Mode, only heavier and like Rammstein, just with a danceable touch. In this they are incredibly intense, unifyng their ability of drawing the audience into hypnotic darkness.
BEYOND OBSESSION, the 2012 founded synthpop-duo from Hamburg/Potsdam, enchanted the scene and critics with their unique sound. They recently collected stage experience by supporting considerable major scene-act, like Camouflage, And One and Solar Fake. Currently the boys are working on their third studio album and gearing up to step on stage again in summer at our Amphi Festival 2016.
THE FESTIVAL ANNOUNCERS
Meanwhile also this year´s announcers are confirmed. Dr. Mark Benecke and Oliver Klein will once more to guide you through the programme, accompanied by Jens Puppekopp (X-Divide).
TICKET ORDER
Since Amphi Festival at Tanzbrunnen has been sold out in advance every time from 2010 till 2014, the capacity reduction to 12,000 visitors goes along with an even stronger recommendation to get your tickets before it´s too late! Original weekend- & day tickets are available online at the official festival shop at
www.amphi-shop.de
. Furthermore you can purchase tickets at all CTS/EVENTIM and TICKETMASTER box-offices as well as online at
www.eventim.de
,
www.oeticket.com
,
www.ticketcorner.ch
and
www.eventim.nl
. Also available now at Eventim:
print@home tickets!
Source: Press Release