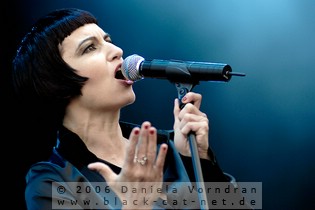 Steve Morell(Pale Music International) presents:

DIRTY DIAMONDS
Live: MONA MUR feat. EN ESCH (ex-KMFDM, Pigface, Slick Idiot) and Nikko Weidemann (original MonaMur Member, Flucht Nach Vorn, Mad Romeo)
30th March 2007 White Trash Berlin, Diamond Lounge Schönhauser Allee, 22h.
Mona Mur, extravagant vocalist and composer of rigid wave ballads, was, together with her collegues of the EN and organist Nikko Weidemann, responsible for 80s undergroundhits such as "Snake" , "Surabaya Johnny" and "Eintagsfliegen" performed in concerts of manic intesity and morbid slowbeat chic. Then the diva disappeared for a decade, becoming martial artist and composer for video games. Until director Fatih Akin rediscovered her. Three of her violently orchestral tracks landed in the soundtrack of his much awarded movie "Gegen die Wand/Head On). A "best Of MM" - Compilation followed (INTO YOUR EYE, Dark Dimensions 2004).
After appearances at WGT and M'era Luna Now the "Iron Maiden of BLoody Passions" (quote: "Dorfdisco") embarks for a collaboration with En Esch, former charismatic frontman of the US-based elektro-industrial KMFDM, who had moved to Berlin just in time.
On march 30th, 2007 at the White Trash Berlin, Diamond Lounge they will be celebrating once again the monolithic songs of love, death, blood, beauty and insanity. Partner in crime will also be Nikko Weidemann, original Mona Mur Member, Mad Romeo and organist of reputed virtuosity.
Source: Mona Mur