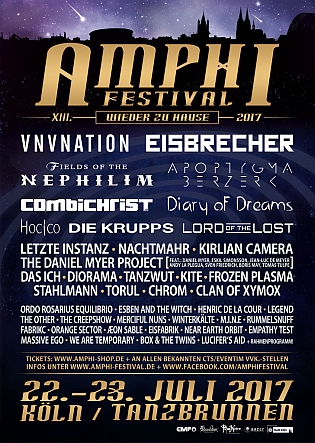 Summertime is festivaltime – gregarious mood, exciting music, and the delightful feeling of simply allowing your soul to take a trip down recreation lane. The more we´re happy to rock Tanzbrunnen Cologne with you again on 22. & 23.07.2017. Very fittingly we are to announce the first bands for Amphi Festival 2017 today.
Here we go with: VNV NATION | DIARY OF DREAMS | LORD OF THE LOST | LETZTE INSTANZ | NACHTMAHR | DIORAMA | FROZEN PLASMA | STAHLMANN | TORUL | MERCIFUL NUNS | WINTERKÄLTE | FABRIKC | ÆON SABLE | EISFABRIK | NEAR EARTH ORBIT
Meanwhile pre-sale already runs at full blast. Our limited EARLY-BIRD-TICKETS for a reduced early booking price of 65,00 € (plus pre-sale charge) are exclusively available at the Amphi Shop at
www.amphi-shop.de
, plus they´re already short in stock! If you wish to secure one of these highly requested tickets you should order rather quickly.
Also available at Amphi Shop now: our 2016 Amphi-merch with t-shirts, hoodies, etc. at
www.amphi-shop.de/highlights/194/merchandiseamphi2016.html
. This offer also stands while stock lasts.
Watch the after movie 2016 here:
https://www.youtube.com/watch?v=QTOl0NGh-gE
Source: Newsletter