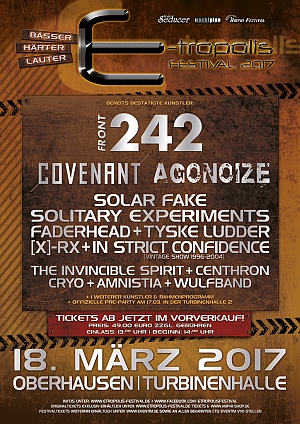 On 18. March 2017 Oberhausen is going to become the world capital of dark electronic beats again. "BETTER-HARDER-LOUDER" at the Turbinenhalle with the spearheads of EBM, ELECTROPOP, SYNTHPOP and INDUSTRIAL. Today the already confirmed 11-pack is joined by some extra company of three additional crackers, ready to deliver a kick-ass show:
COVENANT - AGONOIZE - [X]-RX
With the album "The Blinding Dark" being released in November, COVENANT open their next chapter, three years after "Leaving Babylon". Of course the gentleman electronic pioneers around the charismatic Eskil Simonsson do not pass on sounding their elegantly inventive electropop as a leading part of 2017's E-tropolis Festival.
Furthermore AGONOIZE invite you to their bloodbath splatter-disco. Chopping chunky, the life-juice pulsates from the veins as the aggrotech experts from Berlin unleash their electronic discharge, delivering the ultimate soundtrack to their effectful horrorshow.
Also [X]-RX are to charge upon you at E-tropolis at full throttle. No holds barred, the Rhenish industial-ravers meanwhile achieved a successful transition into the dark aggrotech area, significantly expanding their sound with the album "CRANK IT UP", they intend to smash down on you with all due conviction. "BETTER-HARDER-LOUDER", 100% E-tropolis – a perfect soundstorm to scorch the dancefloor!
Therewith confirmed so far are:
FRONT 242 + COVENANT + AGONOIZE + SOLAR FAKE + SOLITARY EXPERIMENTS + FADERHEAD + TYSKE LUDDER + IN STRICT CONFIDENCE (VINTAGE SHOW 1996-2004) + [X]-RX + THE INVINCIBLE SPIRIT + CENTHRON + CRYO + AMNISTIA + WULFBAND + 1 additional artist!
TICKETS
Original tickets for E-tropolis vol. 7 are now available at
www.amphi-shop.de
(or
www.etropolis-festival.de/tickets
), including 5+1 group tickets. Furthermore E-tropolis tickets are on sale at all nationwide CTS/EVENTIM box-offices as well as online at
www.eventim.de
,
www.eventim.nl
,
www.oeticket.at
,
www.ticketcorner.ch
and as
PRINT@HOME edition.
Further info at:
www.etropolis-festival.de
|
www.facebook.com/etropolisfestival