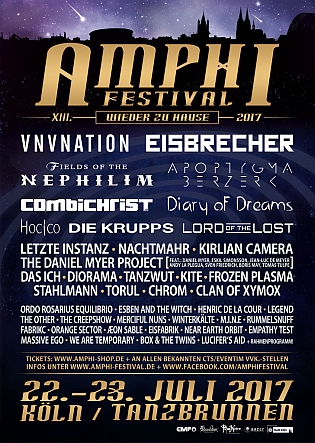 Autumn is here and it's getting cold. Time to get stovestoking, throwing some hot coals into the flame which ignites the Amphi Festival 2017. Therefore today's programme update comes along heavily packed. Not only with full throttle rock and chunky electrobeats but also with a few surprises to discover. Let's lift the curtain for:
EISBRECHER | APOPTYGMA BERZERK | COMBICHRIST | KIRLIAN CAMERA | DAS ICH | CHROM | ORDO ROSARIUS EQUILIBRIO | HENRIC DE LA COUR | THE OTHER | RUMMELSNUFF | ORANGE SECTOR | WE ARE TEMPORARY | LUCIFER'S AID
In featuring EISBRECHER we present you Amphi Festival's second headliner of 2017. The Schock assimilated, the prototype assembled, it seems hell still has to wait a little longer. Ready to embark on the next storm voyage, captain Alex Wesselsky and Noel Pix give the call for a rapid foray, full speed ahead! Gladly the rockers from the beautiful ice state of Bavaria are a little crazy, so they don't miss to celebrate the iceless summertime with a blasting festival show at Tanzbrunnen Cologne.
Multitalented and versatile, we are very much looking forward to the interdisciplinary Norwegians Stephan Groth and Andy LaPlegua, also known as the creative minds of APOPTYGMA BERZERK and COMBICHRIST. One evil, the other nice both bands successfully stepped beyond the borders of the electronic music scene, always ready to surprise when you least expect it. Finest alternative pop meets electronic edge and gritty rock attitude – gripping to very final note. Also you may look forward to the elegant and epic synth sound of Italian-based cult formation KIRLIAN CAMERA, lead by singer Elena Alice Fossi and mastermind Angelo Bergamini.
Literally risen from the dead, DAS ICH are an undisputed highlight of any scene festival. An undemolishable rough-edged classic, you can't help treasuring, if not loving for every given song. Over 30 years of gothic history unified in the personas of Stefan Ackermann and Bruno Kramm. Speaking of resurrection: rising again, though a little more "the living dead"-way, always played a pivotal role in the works of horrorpunk masterclass graduates THE OTHER. Zombies, ghouls and other monsters come to undead life as Lord Usher and his flock set-off for a crazy creature-boogie.
Do not miss out on the boppy electropop of CHROM, who of course bring some of their new 2016-released album "Peak & Decay" along, as well as the Swedish wavepop-sorcerer and darling of the public HENRIC DE LA COUR. The charismatic artist from Stockholm returns to Amphi with fresh material in the trunk – well worth getting psyched about.
Again from Sweden, ORDO ROSARIUS EQUILIBRIO expand the current Amphi line-up in the field of dark folk/industrial. Completely unfolkish, yet all the more industrial, also Calle Nilsson (yet another Swede!) heads for Cologne with his electronic thunderstorm called LUCIFER'S AID. Inspired by the icy soundscapes of Belgian minimal industrial, the one man army delivers some serious artillery, ready to blow your minds away. The debut album "New To Reality" already belongs to the toughest contenders for the machine bulwark of the year. Cold, sinister and unforgiving!
Following the motto "powerful music lends powerful arms", in RUMMELSNUFF we got us an extra-strong seaman for the Amphi ship, throwing himself into the sweeps of the MS RheinEnergie at our Orbit Stage. The latter also goes for New York based sound-explorer Mark Roberts, who will give his Amphi first in shape of the ambitioned dark-electro project WE ARE TEMPORARY.
Concluding today's massive line-up we give you another delicacy for fans of the classic EBM boot. Hanover based cult-machinists ORANGE SECTORcelebrate their 25th anniversary next year and they chose their first ever Amphi gig for what shall become one hell of a jubilee, you can't afford to miss.
For further info please visit
www.amphi-festival.de
or
www.facebook.com/amphifestival
.
Original Amphi Festival weekend tickets are exclusively available at Amphi Shop,
www.amphi-shop.de
! Furthermore festival tickets are available at all nationwide CTS/EVENTIM box-offices, online at
www.eventim.de
,
www.oeticket.com
,
www.ticketcorner.ch
,
www.eventim.nl
and as
PRINT@HOME edition.
Source: Press Release