This year, on the 25th of march the GOLDEN APES will host the Dark Spring Festival 2017 for the 8th time already. True to the event's credo this years Lineup will once again present fascinating and interesting tunes away from the typical scene-mainstream. You can expect a well balanced mixture of established and exciting new bands of the Wave- Gothic-and Postpunk-scene from all over the world. Again, in reliable tradition, the Festival is gonna take place at legendary BiNuu Club in the heart of Berlin.
Lineup 2017
No lengthy explanation is needed for AND ALSO THE TREES, pioneers of the english Gothic and Post Punk movement. A band full of poetry and innovation with a blistering fire still burning inside as proved by their last masterpiece ,,Born Into The Waves''. which will be featured in their full length show on the festival.
In spite of all inpredictability, all shows of Australia's act ASCETIC: have got one thing in common: the fact, that their shows are not only sudatory for the three guys but also the audience is drawn into the bands energetic Post Punk performance.
An impulsive mixture of Death-, Gothrock and Punk you can find in the music of HORROR VACUI. The quintet from Italy knows to fascinate with gorgeous sound and arrangements, having established a remarkable fanbase during the last years.
Powerful lead singer Yulia and her three fellows of ALLITERATION KIT are the insiders' tip of this years festival. The Band from Russia will give their Germany debut , exciting the crowd with their refreshing Post Punk that includes a slight pinch of soothing 80s nostalgia.
Last but definitely not least your host, the GOLDEN APES will introduce their brandnew album "Malus".
At the aftershow-party DJs Thomas Thyssen (Pagan Love Songs) and Jakob (Stroblight Records) will serve the finest of Gothrock, Post Punk, Wave & Indie, keeping us on our feet till sunday morning...
Tickets
www.apes.1a-shops.eu
/
www.koka36.de
Festival Info
www.facebook.com/darkspringfestival
/
www.binuu.de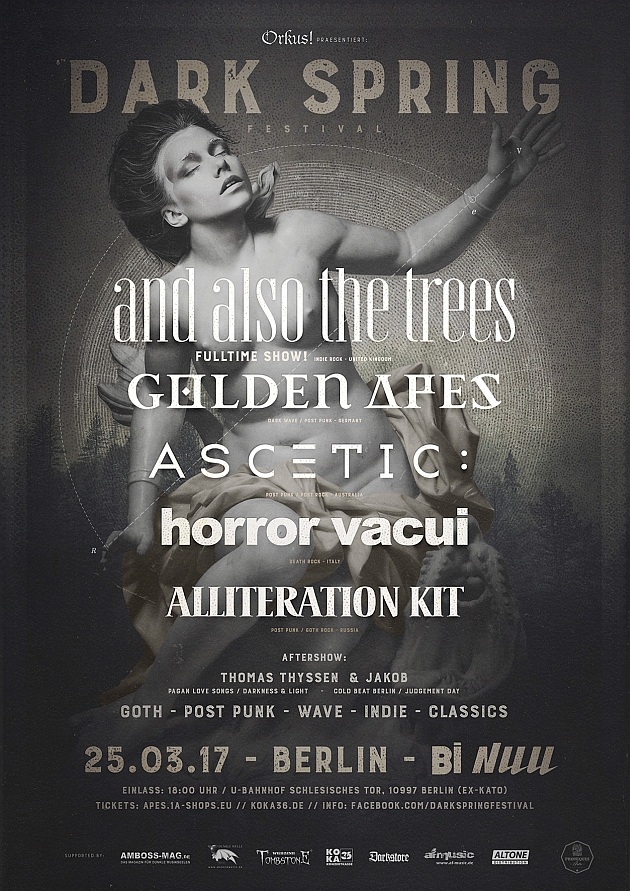 Source: Press Release