In just about half a year, on 22. & 23. July, to be precise, the Amphi Festival will open its gates again. Thus we are happy to announce the final 8 bands today, completing 2017's Amphi line-up known by these names: HOCICO | THE DANIEL MYER PROJECT | KITE | LEGEND | THE CREEPSHOW | ESBEN AND THE WITCH | MASSIVE EGO | BOX & THE TWINS
Whenever HOCICO, a.k.a. Erk and Racso, crack their well-tanned electronic whip, resistance is instantly rendered futile as conjuring beats and razorsharp synths begin to lash the rhythm into the crowd. Famous for his smart electro sound, Daniel Myer (Haujobb, Covenant, Destroid, Architect, Liebknecht) stands as a well-recognised creative engine, producer and remixer with a touch for that certain something. Introducing THE DANIEL MYER PROJECT, the well-established Leipziger gathered an incredible cast. Together with JEAN-LUC DE MEYER (Front 242) and ESKIL SIMONSSON (Covenant), neither Combichrists ANDY LA PLEGUA and SVEN FRIEDRICH of Solar Fake, nor BORIS MAY of Klangstabil or Berlin charming boy TOMAS TULPE dare to miss the call of breaking ground together with Daniel Myer in a concert you haven't seen before.
As a true call of duty for fans of exceptionally voiced synthpop music, KITE from Sweden understand how to create a fascinating show, as the magnificent two-piece Berg/Stenemo starts its wizardry at up to four synths simultaneously. Breathing the rough climate of their Icelandic home, also LEGEND are to perform at Amphi Festival 2017. Don´t miss this thrilling stroll along the lava stream, their literal dance around a geyser, deeply glowing from the inside, yet ready to escalate at any given moment. Beyond the electronic sounds, we also welcome THE CREEPSHOW, injecting a massive shot of rock & roll into Amphi 2017. Highly rated and requested after their last appearance, the energetic Canadians invade Cologne again, to turn your heads with an amazing Psychobilly ride, whereas British-based ESBEN AND THE WITCH enjoy to wait on with a sophisticated blend of postpunk, experimental darkwave and traces of the psychedelic 70s era, as Rachel Adams, Daniel Copeman and Thomas Fisher create absorbing soundscapes inviting you to dive into as a whole.
Also joining us directly from Cologne: BOX & THE TWINS who will present their dreampop debut "Everywhere I Go Is Silence", while the British electro formation MASSIVE EGO marks the final entry to the Amphi line-up.
Thus the complete programme features:
VNV NATION | EISBRECHER | FIELDS OF THE NEPHILIM | APOPTYGMA BERZERK | COMBICHRIST | DIARY OF DREAMS | HOCICO | LORD OF THE LOST | DIE KRUPPS | LETZTE INSTANZ | NACHTMAHR | KIRLIAN CAMERA | THE DANIEL MYER PROJECT | DAS ICH | DIORAMA | TANZWUT | KITE | FROZEN PLASMA | STAHLMANN | TORUL | CHROM | CLAN OF XYMOX | ESBEN AND THE WITCH | ORDO ROSARIUS EQUILIBRIO | HENRIC DE LA COUR | THE OTHER | THE CREEPSHOW | MERCIFUL NUNS | LEGEND | WINTERKÄLTE | M.I.N.E | RUMMELSNUFF | FABRIKC | ORANGE SECTOR | ÆON SABLE | EISFABRIK | NEAR EARTH ORBIT | EMPATHY TEST | MASSIVE EGO | WE ARE TEMPORARY | BOX & THE TWINS | LUCIFER'S AID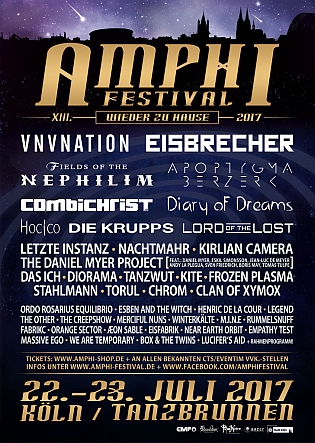 For further info please visit
www.amphi-festival.de
or
www.facebook.com/amphifestival
.
Original Amphi Festival weekend tickets are exclusively available at Amphi Shop,
www.amphi-shop.de
! Furthermore festival tickets are available at all nationwide CTS/EVENTIM box-offices, online at
www.eventim.de
,
www.oeticket.com
,
www.ticketcorner.ch
,
www.eventim.nl
and as
PRINT@HOME edition.
Source: Newsletter