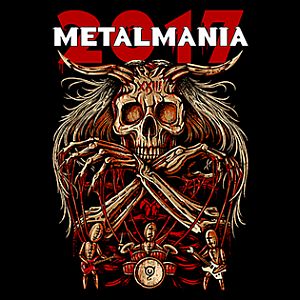 Metalmania, the biggest indoor metal festival in Eastern Europe, returns to Spodek Hall (Katowice, Poland) on 7th April 2018. The 24th edition of this iconic festival will be headlined by Emperor! Two more bands have just been confirmed for this event – British thrash metal Xentrix will perform at the main stage, while Terrordome, a cross over thrash metal band from Poland has been added to the small stage line-up.
Xentrix is one of the most recognized thrash metals band from UK. Formed in 1985 in Preston, Lancahire, they were one of the leading lights of the British Thrash movement. The band released four full-length studio albums, with "Scourage" from 1996 being the last one. The band was active until 1997, since then they have re-united a couple of times. Although Xentrix never gained global notoriety, they had many underground performances with audiences of over 2,000 to 5,000 people in attendance. By 2006, Xentrix had sold over 500,000 records worldwide. The band's performance at Metalmania Festival will be their first ever show in Poland!
Current line-up:
Kristian Havard - guitars
Chris Shires – bas
Jay Walsh - vocal/guitars
Dennis Gasser – drums
Terrordome is a Polish quartet playing fast and brutal Crossover Thrash Metal with roots in the '80s. The band is heavily inspired by the acts like Razor, Nuclear Assault, Slayer or Cryptic Slaughter. Their music is marked with the break necking, fast, chaotic solos combined with aggressive screams. Being active since 2005 they have shared the stage with Suicidal Tendencies, Anthrax, Destruction, D.R.I., Whiplash, Hobbs' Angel of Death, Frank Blackfire, Suicidal Angels, Ratos de Porão, Fastkill, Accu§er, Abigail, Wormrot, Vader and many more.
Current line-up:
Uappa Terror – vocals & guitars
Paua Siffredi – guitars
De Kapitzator – bass & vocals
Murgrabia Mekong – drums
Metalmania Festival, one of the most important musical events of 2018, a real treat for metal maniacs! One day, two stages, several bands from all around the world and thousands of fans! That's what Metalmania Festival is all about! The last edition of Metalmania Festival took place at Spodek Hall in Katowice on April, 22nd 2017, with Samael, Coroner, Moonspell and Sodom on the bill! Tickets are on sale now!
7.04.2018 Metalmania 2018
Katowice – Spodek
EMPEROR
Xentrix
Terrordome
+ tba
TICKETS – PRE-SALE:
FAN - 666 PLN
VIP - 355 PLN
Red seats H, J– 260 PLN
Red seats & blue seats (rows I-X)– 220 PLN
Blue seats (rows XI and up) – 180 PLN
Standing floor – 190 PLN
Tickets available at these sites:
shop.metalmind.com.pl (collectors edition)
www.ticketpro.pl
www.eventim.pl
www.ebilet.pl
www.biletin.pl
www.ticketportal.pl
More info
www.metalmind.com.pl/metalmania
www.facebook.com/MetalmaniaFestival/
Source: Press Release