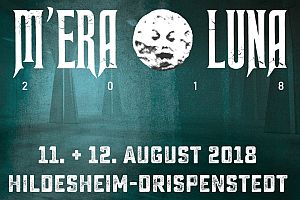 Fire bearers and Breakbeat-Visionaries: The rave legends of THE PRODIGY will revisit M'era Luna after their fantastic debut in 2009. For the festival from 11 to 12 August, other scene heroes will also be coming to Hildesheim, with which the organizer will complete the line-up for the 19th edition of the festival in Hildesheim. Besides THE PRODIGY, following bands are also newly confirmed: PETER HEPPNER, LONDON AFTER MIDNIGHT, MERCIFUL NUNS, HEIMATÆRDE, TORUL, FABRIKC, MASSIVE EGO, CEPHALGY, SCHATTENMANN, WHISPERING SONS and TOO DEAD TO DIE. The line-up of the festival is thus complete, further information on the supporting program will be announced by the organizer in the near future.
Here's the full festival line-up: The Prodigy | Eisbrecher | Front 242 | In Extremo | Ministry | Saltatio Mortis | Apoptygma Berzerk | Peter Heppner | L'Âme Immortelle | London After Midnight | Lord Of The Lost | Hocico | The 69 Eyes | Atari Teenage Riot | In Strict Confidence | Rotersand | Nachtmahr | Tanzwut | Lacrimas Profundere | Zeraphine | Bannkreis | Welle:Erdball | Aesthetic Perfection | Die Kammer | Clan Of Xymox | Das Ich | Rabia Sorda | Frozen Plasma | Merciful Nuns Heimatærde | Torul | Erdling | Eisfabrik | FabrikC | Massive Ego | Cephalgy | Schattenmann | Whispering Sons | Too Dead To Die
Weekend tickets are available for 105 euros including pre-sale fee and 5 euros garbage deposit online via meraluna.de and
Eventim
or by phone at +49 (0) 180 6-853 653. Visitors who want to travel in a motorhome, caravan or similar vehicle need special caravan reservations, which are already sold out.
Check out the official M'era Luna playlist via Deezer: https://goo.gl/161asz
Source: Press Release