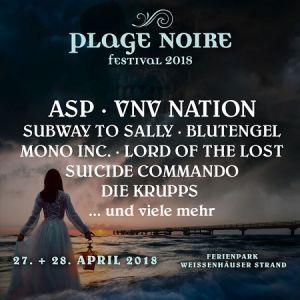 In just under two months, the Weissenhäuser beach holiday park will be wrapped in a dark robe as PLAGE NOIRE lures around 4,000 fans of the black scene to the Baltic Sea. The festival's rebirth - at the same location as in 2009 - was announced in August last year, and was greeted with huge enthusiasm. After only three weeks, all tickets, including overnight stays in the holiday park were sold out. The majority of the music program has been confirmed for several weeks. Organizer FKP Scorpio has just completed the PLAGE NOIRE 2018 line-up with seven more amazing names.
A festival by the sea must certainly include LEICHTMATROSE - fans can look forward to the inventors of the electro-chanson! If you're after bombastic, doom, ballad or electronic rock: expect EWIGHEIM to break the mould and bring the unexpected with their music. A perfect fit for the PLAGE NOIRE! EMPATHY TEST's majestic yet catchy synth-pop, playfully combines dance with dreamy lightness. FLORIAN GREY, the former singer of dark rock combo EAVES END, composes songs with a panoramic and extensive epicenes. Devilish circus music with gripping German lyrics can be expected from the APRON guys. The likeable electro heads from ACCESSORY have always been guarantors for an irresistible combination of hard beats, fat, synthetic sounds and catchy dance floor fillers. Last but not least, JOHNNY DEATHSHADOW completes the live musical program with its mix of danceable grooves, hard guitars and catchy melodies.
The music program is of course only part of the PLAGE NOIRE. On both festival days, visitors can look forward to impressive fashion walks as the Galleria becomes a catwalk. PLAGE NOIRE will present beautiful gothic fashion, from ready-to-wear to haute-gothic couture. Beautifully staged in the centre of the room, labels, designers and scene stores such as Isabeau Ouvert, Schnittmuskel, Attitude-Deutschland, Tuahadedana, 3 Elves and Puderblond will show their creations and collections, which of course will also be available on site. In addition to the fashion show there will be more to offer in the supporting program, which will be announced shortly.
PLAGE NOIRE 2018 is completely sold out. Possible remaining quota with overnight stay can be booked by phone only on +49 (0)1806/00 666 0. Find out more about PLAGE NOIRE at plagenoire.de
The complete line-up


Friday, 27th April
: ASP | MONO INC. | MEGAHERZ | ZEROMANCER | OST+FRONT | SOLAR FAKE | NOISUF-X | CHROM | EDEN WEINT IM GRAB | LEICHTMATROSE |APRON
Saturday, 28th April
: VNV NATION | SUBWAY TO SALLY | BLUTENGEL | LORD OF THE LOST | SUICIDE COMMANDO | DIE KRUPPS | DIORAMA | CENTHRON | ABSURD MINDS UNZUCHT | SCHWARZER ENGEL | EWIGHEIM | EMPATHY TEST | FLORIAN GREY | ACCESSORY | JOHNNY DEATHSHADOW
Source: Press Release