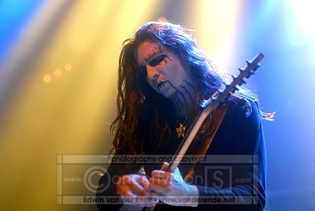 After celebrating a triumphant European tour start in Cologne (Germany) on March 8, 2007, with new touring guitarist, V Santura of German black metal group Dark Fortress, Celtic Frost deliver an update on their live activities subsequent to their European shows.
The group has been invited to play the special guest slot on the forthcoming Type O Negative US headliner tour in April and May 2007.
Due to the current co-headliner tour with Kreator in Europe which will conclude on April 5, 2007, in Hamburg, Celtic Frost will be unable to play Type O Negative's initial concerts. Immediately after the final show of the European tour, however, the group will fly to the United States to join Type O Negative for the first time on April 9, 2007, in Chicago and remain with the tour until its conclusion on May 9, 2007, in New York City.
Celtic Frost will be able to play a limited-duration special guest set of 45 minutes duration. The band believes that this presents an important opportunity to play for US audiences again and expand upon the foundation built in the course of last fall's successful 46-date tour of North America.
Also, Celtic Frost singer and guitarist Tom Gabriel Fischer has entered an exclusive endorsement agreement with Ibanez, the company whose guitars he has been playing in the studio and on stage since the earliest Hellhammer days in 1982.
Celtic Frost further announce the availability of exclusive Celtic Frost worker shirts through Celtic Frost's "Europe & Worldwide" webstore, which you can find at
http://www.celticfrost.com/
.
CELTIC FROST Live


with Kreator:

April 3, 2007 Stockholm, Sweden - Arenan (with Watain and Wolf)
April 4, 2007 Helsinki, Finland - Tavastia (with Watain)
April 5, 2007 Hamburg, Germany - Markthalle (with Legion Of The Damned and Watain)
with Type O Negative (headliner) & Brand New Sin:

April 9, 2007 Chicago, Illinois - Metro
April 10, 2007 Minneapolis, Minnesota - First Avenue
April 11, 2007 Milwaukee, Wisconsin - Eagles Club
April 13, 2007 Sauget, Illinois - Pop's
April 14, 2007 Lawrence, Kansas - Granada Theatre
April 15, 2007 Denver, Colorado - Ogden Theatre
April 16, 2007 Magna, Utah - The Great Salt Air
April 18, 2007 San Francisco, California - Slims
April 19, 2007 Las Vegas, Nevada - House Of Blues
April 20, 2007 Los Angeles, California - Avalon
April 21, 2007 Ventura, California - Ventura Theatre
April 22, 2007 Anaheim, California - House Of Blues
April 23, 2007 Tempe, Arizona - Marquee Theatre
April 25, 2007 Dallas, Texas - Palladium Ballroom
April 26, 2007 Corpus Christi, Texas - The Pavilion
April 27, 2007 Houston, Texas - Meridian
April 28, 2007 San Antonio, Texas - White Rabbit
April 30, 2007 Orlando, Florida - Hard Rock Live
May 1, 2007 Saint Petersburg, Florida - Jannus Landing
May 2, 2007 Fort Lauderdale, Florida - Revolution
May 4, 2007 Atlanta, Georgia - Masquerade
May 5, 2007 Charlotte, North Carolina - Tremont
May 6, 2007 Baltimore, Maryland - Sonar
May 8, 2007 New York, New York - Irving Plaza
2007 Spring/Summer Dates:

May 19, 2007 Thessaloniki, Greece – Hydrogios (with Kreator)
May 20, 2007 Athens, Greece - Gagarin 205 (with Kreator)
July 28, 2007 Oulu, Finland - Qstock Festival
Source: Newsletter
www.celticfrost.com
www.centurymedia.com
http://www.twisted-talent.com/