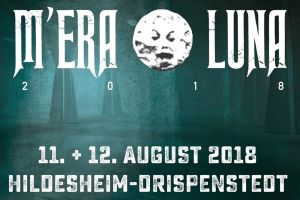 Probably all of you have already given a good friend a compassionate look when they describe M'era Luna as "... just another music festival". Here we present lots of information with examples that demonstrate the opposite as we present you news about M'era Luna warm-up parties, readings, newcomer competition and the DJs who will rock the disco hangar nights.
Readings

David Grashoff

Although he is now turning grey, David Grashoff still stubbornly refuses to grow up. On stage, he talks about his life as a father and nerd and his many failed challenges of life. Other people may do this in a more charming way, but not Grashoff. His humour is as subtle as a baseball bat wrapped in barbed wire and with the flame of a Bunsen burner he burns images into the brains of the audience that will stay with them. Always balancing on the fine line of political correctness, he mercilessly goes where it hurts and gets down and dirty! David Grashoff has found himself accidentally on TV Total and Nightwash. He does not like animals bigger than him.
Markus Heitz

No other writer has been awarded the German Fantasy Prize as often as Markus Heitz, which is why he is rightly considered the grand master of German fantasy. With the bestseller series 'Die Zwerge' ('The Dwarfs') he left his stamp on classic fantasy and conquered the urban fantasy with his werewolf and vampire thrillers.
Christian von Aster

Christian von Aster lovingly draws his audience in with his program "Just recently, in the seventh circle of hell", then proceeds to scare them into dark laughter with his sinister stories about orcs, potatoes and moody love-letter carrying pigeons. In addition he delivers extraordinary love stories, lectures on the fine art of emotional literature and even endeavours with satire, poetry and expressive dance.
M'era Luna Newcomer Competition: Vote!

The dice have been thrown and the finalists of the M'era Luna Newcomer Competition 2018 have been announced: SNOW WHITE BLOOD, DUNKELSUCHT and CYBORG now compete against each other in the voting of the titans! For you this means: listen to the finalists and make your choice here to bring your favourite to #mera18! https://voting.meraluna.de/
Warm up Events

There are over a dozen Warm-Up parties throughout Germany, just waiting to be danced at by you:
30.05.18 - Frankfurt am Main // Ship | Depeche Mode Boot
30.05.18 - Wuppertal // Underground
02.06.18 - Köln // Luxor | Sleepwalker Night
16.06.18 - Elgershausen // Savoy | Night of dark romantic
16.06.18 - Herford // X Herford | Dark Society
30.06.18 - Hamburg // Kir
30.06.18 - Nürnberg // Das Cult | Schwarz Tanz
30.06.18 - Bremen // Tivoli | Ballroom Of darkness Party
30.06.18 - Offenbach // MTW | Excited Celebration vs. Nacht der Maschinen
05.07.18 - Oberhausen // Eisenlager | Düsterdisco
06.07.18 - Osnabrück // Hyde Park | Rabennacht
07.07.18 - Hildesheim // Old Inn | Reborn In Darkness
07.07.18 - Essen // Zeche Carl | Nachttanz
07.07.18 - Mülheim // Tic Club
13.07.18 - Osnabrück // Hyde Park | Rabennacht
14.07.18 - Neunkirchen // Club Caesar | Tanzritual
04.08.18 - Berlin // Nuke Club
04.08.18 - Mannheim // MS Connexion | Super Schwarzes Mannheim
DJs in the disco hangar

In order that the M'era Luna nights in the Disco hangar become an ecstatic experience once again this year, we have put the turntables back into competent hands.
Friday
Daniel Graves (Aesthetic Perfection) // Honey (Welle:Erdball) // DJ AndTraX (Nachtwerk Musikclub Karlsruhe & Super Schwarzes Mannheim)
Saturday
Sven Friedrich (Zeraphine / Solar Fake) // DJane Thenia Af. (Berlin)
Become a M'era Luna Companion!

How do you fancy getting your hands on official M'era Luna, merchandise, free tickets or other fantastic goodies? What you have to do? Simple: Become an official festival ambassador and provide your friends with tickets. For every ticket sold, you will receive points that you can exchange for exclusive rewards! https://www.meraluna.de/de/interaktiv/werde-botschafter/
M'era Luna Academy

The M'era Luna Academy was a great success in 2017. In the various workshops you could broaden your horizons and listen to compelling lectures. Promoters are currently busy preparing the 2018 Academy and hope to be able to present you with comprehensive news soon. One thing is certain: it will again be very exciting...
Line-up

The Prodigy | Eisbrecher | Front 242 | In Extremo | Ministry | Saltatio Mortis | Apoptygma Berzerk | Peter Heppner | L'Âme Immortelle | London After Midnight | Lord Of The Lost | Hocico | The 69 Eyes | Atari Teenage Riot | In Strict Confidence | Rotersand | Nachtmahr | Tanzwut | Lacrimas Profundere | Zeraphine | Bannkreis | Welle:Erdball | Aesthetic Perfection | Die Kammer | Clan Of Xymox | Das Ich | Rabia Sorda | Frozen Plasma | Merciful Nuns | Heimatærde | Torul | Erdling | Eisfabrik | FabrikC | Massive Ego | Cephalgy | Schattenmann | Whispering Sons | Too Dead To Die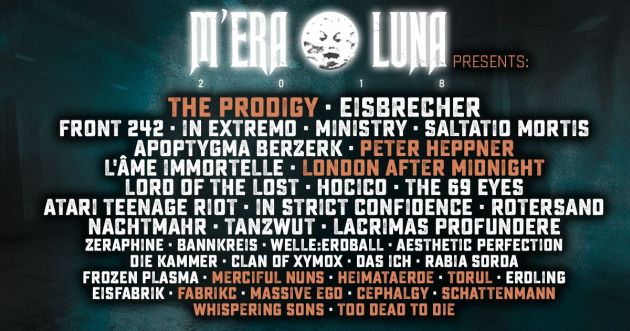 Beck's Pre-Order

Dear friends of the barley liquid, you now know how it works: Simply pre-order beer and pick it up in ice-cold condition! The Beck's Pre-Order makes it possible! Minimized carrying, minimized stress, minimized thirst. https://www.meraluna.de/de/interaktiv/shop/
Tickets

Full-Moon tickets are available for 105 € including 5 € garbage deposit on www.meraluna.de,
Eventim
or by phone +49 (0) 180 6-853 653 (0.20 € / call from the fixed network, mobile max 0.60 € / Call). The caravan reservations are already sold out.
Source: Newsletter