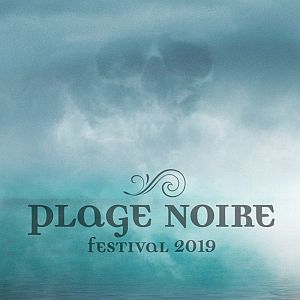 The festival is already 75% sold out! PLAGE NOIRE, the indoor festival for fans of the black scene, returns to the Weissenhäuser beach on 3 and 4 May 2019 and continues its unique history. So much has been known for some time. Now the first 13 names for the line-up of the next edition are fixed. For the comeback of the event, which had already taken place for the first time in 2009 and then paused, 4,000 fans from all over the republic came to enjoy live music and to attend the legendary appearance of Isabelle LeFavre, who is roving about the Baltic Sea. So it says at least the legend, the organizer FKP Scorpio has based the festival on. Now this story is being updated. PLAGE NOIRE is already 75% fully booked at the moment.
In the coming year EISBRECHER with their skilful sound fusion of Neue Deutsche Härte and electronic elements, the electro wave pioneers PROJECT PITCHFORK, the industrial dance duo FRONT LINE ASSEMBLY and the brute electro act HOCICO will awake the black beach to life again. They are supported by the medieval rockers TANZWUT, the dark rock formation ZERAPHINE, the future pop band ROTERSAND and the gothic metallers LACRIMAS PROFUNDERE. DIORAMA, who unfortunately had to cancel their show last year, will make their appearance as promised. FADERHEAD, CLAN OF XYMOX, MERCIFUL NUNS and FABRIKC complete the first wave of announcement.
Of course there will be a fitting supporting program far away from the three music stages, which should leave no wishes open for the visitors. Readings, pre-opening and after-show parties, autograph sessions, fashion walks, make-up sessions and, last but not least, the artistic staging of the legendary Isabelle LeFavre are on the agenda. PLAGE NOIRE is characterized by a very special flair and extreme attention to detail. The atmosphere in the Ferienpark Weissenhäuser Strand during the festival days is unique. At the moment there are still a few tickets incl. two nights in an apartment, bungalow or hotel from € 149 per person available. However, if you want to book the whole package, you should hurry, because there are only a few accommodations available. Tickets and all information about PLAGE NOIRE 2019 are available at plagenoire.de.
So far confirmed artists: EISBRECHER, PROJECT PITCHFORK, FRONT LINE ASSEMBLY, HOCICO, TANZWUT, ZERAPHINE, ROTERSAND, LACRIMAS PROFUNDERE, DIORAMA, FADERHEAD, CLAN OF XYMOX, MERCIFUL NUNS, FABRIKC
Source: Newsletter