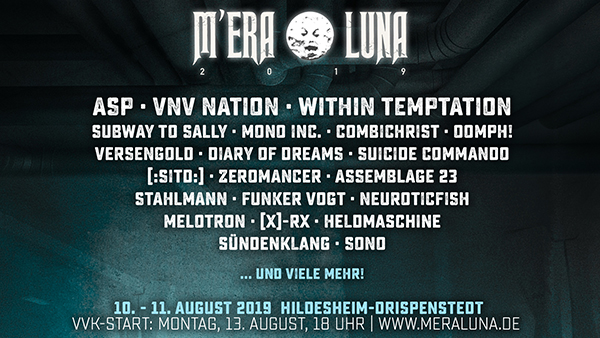 The party is rushing, the bands are in the process of giving each other the microphones and there is the pulsing (un)life on the dealer's mile, in the hangar, on the medieval market and of course on the campsite! We are just at half of the things that are coming yet - but still we would like to ask you to pause and already think about the future...
The first artists for the M'era Luna 2019 were traditionally already presented on this year's M'era Luna Sunday! Let's be honest: it would be a shame if the anticipation just breaks off, right? And already the first wave of bands is powerful again! We may not only announce the czar of the gloomy Rock, ASP himself, M'era Luna promoters are also pleased to add VNV NATION, one of the most wonderful Synth Pop combos in the world, to their 2019 line-up. The tip of the billings gets their full refinement through WITHIN TEMPTATION, the show of the Netherlands is always a firework of bombast!
But also the other lines can be read, how sweet nectar tastes: SUBWAY TO SALLY, MONO INC., COMBICHRIST, OOMPH!, VERSENGOLD, DIARY OF DREAMS, SUICIDE COMMANDO. Nobody, from Dark Rock to the hard sounds of Electronic Music, is left alone! And if we now tell you that you can also see [:SITD:], ZEROMANCER, ASSEMBLAGE 23, STAHLMANN, FUNKER VOGT, NEUROTICFISH, MELOTRON, [X]-RX, HELDMASCHINE, SÜNDENKLANG and SONO at M'era Luna 2019 - wouldn't that be a nice introduction?
Advance sale started on Monday, 13 August 2018! Traditionally, pre-sale started on Monday after the festival at 18:00 with the sale of strictly limited 666 tickets, which you can get for € 79 including 5 € garbage deposit. For the first time also Gothic Garden tickets are offered in the course of 666 tickets, which is why they are also correspondingly cheaper. So get in touch! Then new-moon-tickets for € 89 including 5 € garbage deposit on www.meraluna.de, www.eventim.de or by phone under +49 (0) 180 6-853 653 (0.20 € / call from a landline, mobile max 0.60 € / call) go on sale. Camper reservations you can get for 25 €.
All bands, all information and much more on
www.meraluna.de
Source: Newsletter