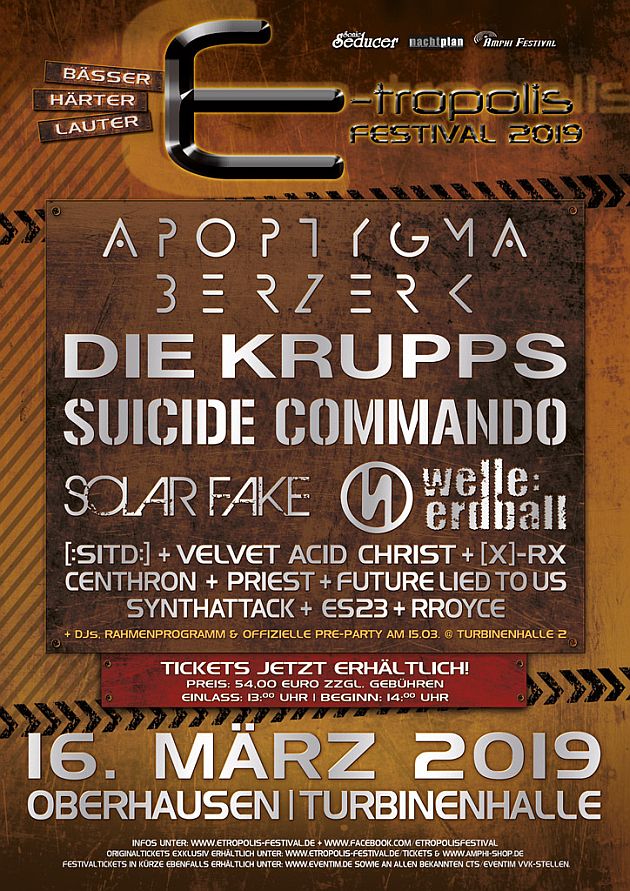 The very best electro-feet can do is to dance! On 16th March (pre-party included even already on the 15th) 2019 we once again let the many sounds of electricity out of the transformer. 14 bands and a selection of renowned DJs will provide a massive energy surge. As for today's programme update we are happy to add six new bands, promising electrifying hours on the dancefloor with energetic synth pop, heavy beats and a wave of 8bit nostalgia. Please welcome: WELLE:ERDBALL + CENTHRON + PRIEST + SYNTHATTACK + ES23 + RROYCE! Two more bands and the DJs will follow soon!
E-TROPOLIS- & AMPHI FESTIVAL COMBI-TICKETS PRE-SELLING NOW!
At this time we would like to raise awareness for our enhanced ticket offer. The official Amphi-Shop at www.amphi-festival.de, along the popular original design E-tropolis-Tickets and 5+1 group tickets, now also offers the "E-tropolis / Amphi 2019"-combi-tickets again, giving you a price advantage over the single tickets for each festival. Furthermore pre-selling of E-tropolis tickets is already running on all cylinders via the known CTS/EVENTIM box-offices and online at www.eventim.de, www.oeticket.at, www.ticketcorner.ch (incl. PRINT@HOME).
Source: Newsletter