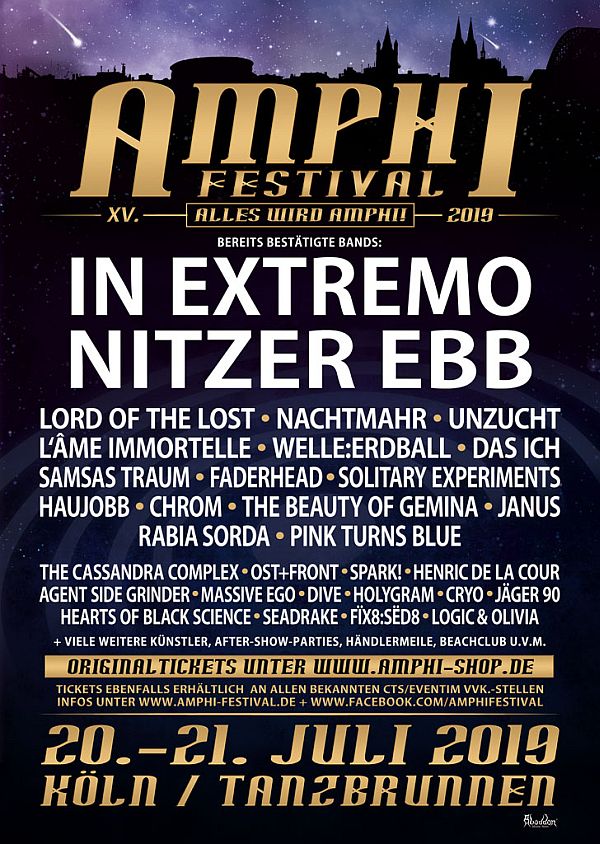 Today the story continues! After the first big bandpack the second wave is already rolling with another nine artists being added to the line-up. The real, the rare and three Amphi-debuts - please welcome: NACHTMAHR + UNZUCHT + L'ÂME IMMORTELLE + RABIA SORDA + JANUS + PINK TURNS BLUE + MASSIVE EGO + SEADRAKE + FÏX8:SËD8
Jekyll and Hyde, romanticist and field commander. With Thomas Rainer contrast is programme! Whether as supreme commander of the NACHTMAHR army or alongside exceptional vocalist Sonja Kraushofer in L'ÂME IMMORTELLE - it is impossible to overlook the massive competence of over 20 years worth of stage-experience - most of them at the very forefront as Austria's most requested scene-export. For the first time since 2008 we will even have a double-feature at Amphi Festival with both bands performing shows! Don't miss it!
As we speak of duality: the mythologically founded epitome of the term two-face is of course being delivered by JANUS! The long anticipated comeback of Dirk Riegert and Tobias Hahn during Amphi Festival 2014 struck like thunder! They even played twice in front of a fully packed Theater, presenting their set in an acoustic-jazzrock outfit at that time. But JANUS would not be JANUS without already having a new gameplan prepared to reveal another engaging facet of their creative output! Expect the unexpected!
Erk Aicrag has never been shy of an energy-pumped show as well! The effervescent Mexican always goes all-in and excites audiences around the globe with his vivacious appearance. Within the musical confines of RABIA SORDA he currently merges electro beats and gripping industrial-rock into an electrifying symbiosis which, without question, is destined to create some serious stir at the Rhine!
PINK TURNS BLUE, whose origin roots in the Rhine-area of the year 1985, masterfully dwells the charming trinity of indiepop, wave- and postpunk influences. Uncoventional chords - timeless magic! We are very happy and honored to welcome this classic, lead by Mic Jogwer, for the first time ever at Amphi Festival.
Also for the first time the new synth supergroup SEADRAKE consisting of singer Hilton Theissen (Akanoid), Mathias Thürk (ex-Minerve) and Rickard Gunnarsson (Lowe, Statemachine) joins the Amphi line-up. For those among you who like it a tad bit darker, there is a sinister electro-slasher coming for you in the shape and body of FÏX8:SËD8! The project from Wiesbaden, as written and conceived by Martin Sane, melts influences of great electronic pioneers such as FLA, Skinny Puppy and Placebo Effect into a devilishly haunting blend.
Veni,vidi,vici might be the fitting slogan vor MASSIVE EGO! In 2017 the shimmering Brits conquered Amphi by storm and left a sustaining impression in many of you! Rightfully so, your wish is our command! Look forward to a new encounter with Marc Massive & Co. in July 2019!
AMPHI FESTIVAL "UNBOXING" WITH HONEY (WELLE:ERDBALL)
Keen eyes might already have spotted HONEY of WELLE:ERDBALL being around as a reporter at this years Amphi Festival. We are very excited to show you the wonderfully charming documentation he created under the moniker "Amphi Festival Unboxing". 12 entertaining minutes about the Amphi Festival you should definitely check out, even if the video is only in German:
https://www.facebook.com/amphifestival/videos/473078389768864/
Thanks to HONEY, his film team and the "Amphi Couple" for this great clip!
TICKETS & INFO
More festival information is available as always at www.amphi-festival.de or www.facebook.com/amphifestival. Original Amphi Festival tickets and "Amphi/E-tropolis 2019" combi-tickets are exclusively available at Amphi Shop, www.amphi-shop.de! Furthermore festival tickets can be bought at all nationwide CTS/EVENTIM box-offices, online at www.eventim.de, www.oeticket.com, www.ticketcorner.ch and as PRINT@HOME edition.
XV. AMPHI FESTIVAL 2019 - 20. & 21.07.2019 - COLOGNE | TANZBRUNNEN
IN EXTREMO + NITZER EBB + LORD OF THE LOST + NACHTMAHR + UNZUCHT + L'ÂME IMMORTELLE + WELLE: ERDBALL + DAS ICH + SAMSAS TRAUM + FADERHEAD + SOLITARY EXPERIMENTS + HAUJOBB + CHROM + THE BEAUTY OF GEMINA + JANUS + RABIA SORDA + PINK TURNS BLUE + THE CASSANDRA COMPLEX + OST+FRONT + SPARK! + HENRIC DE LA COUR + AGENT SIDE GRINDER + MASSIVE EGO + DIVE + HOLYGRAM + CRYO + JÄGER 90 + HEARTS OF BLACK SCIENCE + SEADRAKE + FÏX8:SËD8 + LOGIC & OLIVIA + many other bands & supporting programme coming soon
Info: www.amphi-festival.de or www.facebook.com/amphifestival
Source: Newsletter