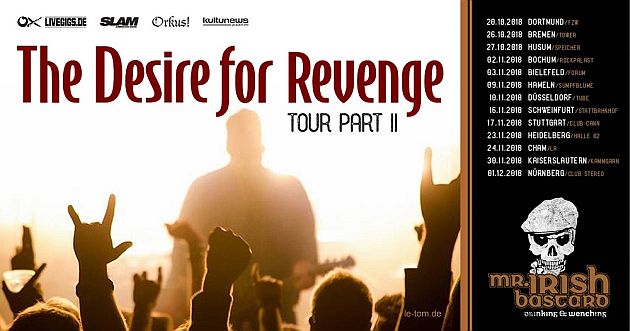 At the end of the day, when the club or hall lights go out and the eight energetic of MR. IRISH BASTARD shake their first bars off the stage, it's always about love. The great power, constantly changing between euphoria and melancholy, makes MR. IRISH BASTARD wander, play, live, celebrate and share. The Irish Folk band, which also invites well-known Punk Rock fans effortlessly to cool their music, is everything it should be: dynamic, authentic, warm, humorous, fast, loud and in the end guaranteed as transpired as we amazed spectators.
After traveling across Europe during the summer and shaking off festival grounds, the second part of their successful "The Desire For Revenge" tour is scheduled for mid / late October. The songs of the still fresh, at the beginning of the year appeared and chartered, same-named album, sound now, a few months later, again more powerful. After the live test is finally always in front of the live favorite! But songs from the well-known repertoire of the band can be enjoyed this fall again. With the addition of a violin, the instrumentation bursts even harder because of the Irish body and mind.
Speaking of "Irish". What distinguishes MR. IRISH BASTARD from the many others, including good Irish Folk bands, is the Irish blood pulsing in the veins of the singer MR. IRISH BASTARD. His roots lie in the conflict-laden north of the island, an area in which much suffering was scattered, which manifests itself in the local lifestyle and thus in the cultural expression. To put it bluntly, all this means everything else in the music of MR. IRISH BASTARD. There is always depth behind every tangible feeling of happiness, the melancholy foreboding that every happiness is fragile.
For the eight of course, luck is the music. On the other hand, friendship is an ever-resonant constant in the self-image and in the live presentation of MR. IRISH BASTARD. No one is excluded, certainly no one in the audience. Everyone is invited to become a friend of the band. And this friendship is lived by the four founding members with liability. The Zeitgeist, with its digital dating excesses, pretends otherwise, but MR. IRISH BASTARD works on the principle of friendship. Give a word, keep your word.
This would also explain why, in addition to the founding members, other, changing musicians often appear. MR. IRISH BASTARD is a band, but also a grown organism based on the vector connection and friendship. Anyone who has been there will be able to attend again and again. And who does not want to be there again and again, when the band, which promotes itself with the winking sub-line "Drinking & Wrenching", invites to the Irish Folk Party? Open the hearts and souls, the Guinness bottles and pores anyway, if MR. IRISH BASTARD blow the fast-paced march between October and December in 13 selected German cities with charm, love and Irish music!
Tour Dates

20.10. Dortmund – FZW
26.10. Bremen – Tower
27.10. Husum – Speicher
02.11. Bochum – Rockpalast
03.11. Bielefeld – Forum
09.11. Hameln – Sumpfblume
10.11. Düsseldorf – Tube
16.11. Schweinfurt – Stadtbahnhof
17.11. Stuttgart – Club Cann
23.11. Heidelberg – Halle 02
24.11. Cham – LA
30.11. Kaiserslautern – Kammgarn
01.12. Nürnberg – Club Stereo
www.mririshbastard.com / www.facebook.com/mririshbastard
Source: Press Release