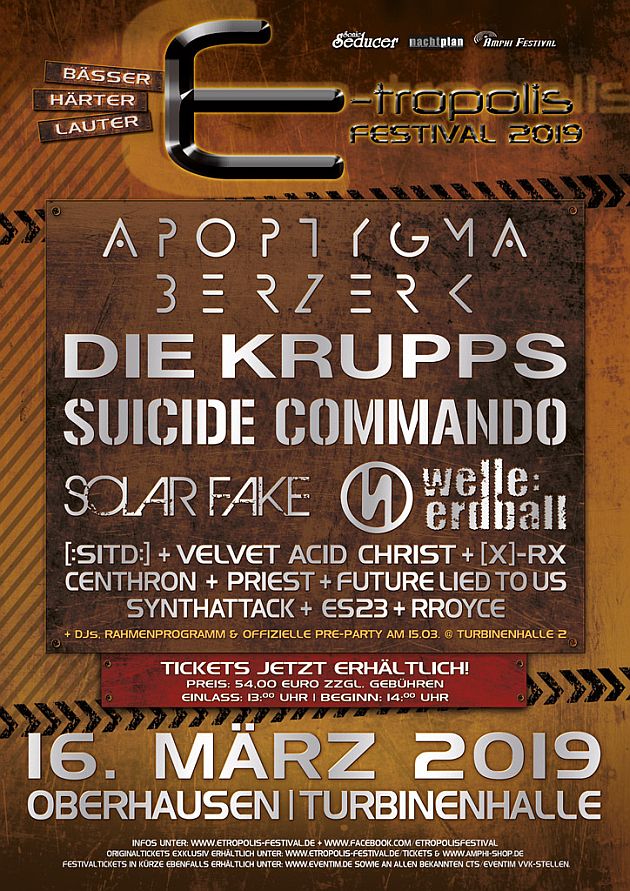 Christmas waits around the corner and along with it goes the search for the perfect gift. With a festival experience like E-tropolis 2019 up your sleeve you're always well equipped especially as our final band update adds two more artists to the E-tropolis Festival 2019 line-up, who couldn't possibly be more legendary: DIE KRUPPS and VELVET ACID CHRIST!
Half electro-steamroller, half steelram, Jürgen Engler & company, a.k.a. DIE KRUPPS, roar up their apocalyptic hotrod to unleash an impressive wall of sound, full of iconic hymns about past, present and a not so faraway future many of us are still succeeding to ignore!
VELVET ACID CHRIST undoubtedly belong to the group of scenegems that shaped the course of the EBM and industrial-scene of the early nineties to a significant degree. While exploring the possibilities of electronic music, mastermind Bryan Erickson always went a unique way that lets "VAC" stand out even today - outside the box and even harder to put into one! Playing at E-tropolis Festival for the first time, we are very happy to welcome another interesting artist, who more than earned the state of a real legend.
Herewith the E-tropolis 2019 stands complete and finally features the following selection of artists:
APOPTYGMA BERZERK + SUICIDE COMMANDO + DIE KRUPPS + SOLAR FAKE + WELLE:ERDBALL + [:SITD:] + VELVET ACID CHRIST + [X]-RX + CENTHRON + PRIEST + FUTURE LIED TO US + SYNTHATTACK + ES23 + RROYCE
Still to be announced: the DJ line-up for the pre- & after-show-parties. More info on this matter will follow at a later time!
The E-tropolis Festival 2019 takes place on 16. March, beginning 1:00 pm at Turbinenhalle Oberhausen. The pre-party kicks off on 15. March at 10:00 pm at Turbinenhalle 2. The party will be free for all visitors with a festivalticket.
TICKETS & INFO
The official Amphi-Shop at www.amphi-shop.de (along with the popular original design E-tropolis-Tickets and 5+1 group tickets) now also offers the "E-tropolis/Amphi 2019"-combi-tickets again, giving you a price advantage over the single tickets for each festival. Furthermore pre-selling of E-tropolis tickets is already running on all cylinders via the known CTS/EVENTIM box-offices and online at www.eventim.de, www.oeticket.at, www.ticketcorner.ch (incl. PRINT@HOME).
For more info please head over to our website: www.etropolis-festival.de!
Source: Press Release