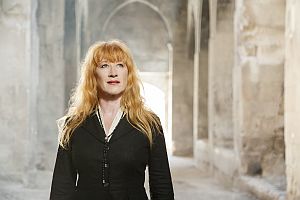 Award-winning Canadian singer and composer LOREENA MCKENNITT, who released her new studio album, 'Lost Souls' in May last year, announces five additional concerts in the summer of 2019 in Germany. "We look forward to returning to the places we have not visited for a long time, to meet with our fans there and, of course, to have the opportunity to play in exceptional sites that are part of the heritage."
The "Lost Souls Tour" for summer will be held from 3 July to 26 July 2019. The concerts in the summer of 2019 will be in addition to the spring tour, which begins on March 9, 2019 and ends on April 8, 2019. And of course Loreena will be on tour with her well-known ensemble: Brian Hughes (guitar, oud and Celtic bouzouki), Caroline Lavelle (cello), Hugh Marsh (violin), Dudley Philips (double bass) and Robert Brian (drums).
Loreena can draw from a rich back catalogue at her concerts, but the new album, 'Lost Souls', will not be neglected. 'Lost Souls' was released in May 2018 and immediately reached chart position 5 in Germany. LOREENA MCKENNITT's uncommon interplay of Celtic Pop, Folk, and World Music has sold more than 14 million albums in more than 15 countries worldwide. She has received multiple-Platinum, Platinum and Gold awards, has been nominated twice for the Grammy, has received two Juno Awards and the Billboard International Achievement Award.
German Summer Concerts / Festivals

14 July – Abendberg, Castle
15 July – Munich, Tollwood
16 July – Berlin, Zitadelle
17 July – Freiburg, ZMF
18 July – Mainz, Zitadelle
German Spring Tour

17 Mar – Bremen, Metropol Theater
18 Mar – Frankfurt, Alte Oper
20 Mar – Mannheim, Rosengarten
22 Mar – Erfurt, Messehalle
24 Mar – Hamburg, Mehr! Theater
25 Mar – Düsseldorf, Mitsubishi Electric Hall
26 Mar – Leipzig, Leipzig Arena
01 Apr – Berlin, Tempodrom
02 Apr – Stuttgart, Beethovensaal
03 Apr – Hanover, Kuppelsaal
Tickets: https://www.ticketmaster.de/artist/loreena-mckennitt-tickets/4477
Source: Press Release / Picture by Richard Haughton