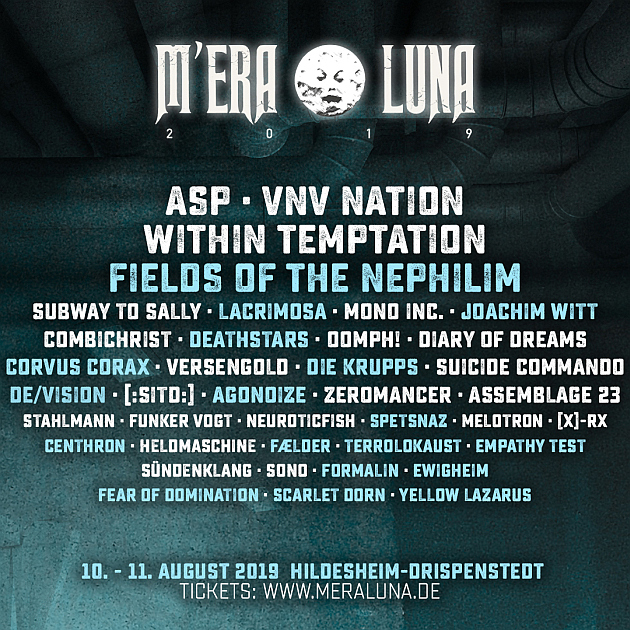 The line-up for Europe's largest Black Scene gathering is complete: FIELDS OF THE NEPHILIM are added to those already confirmed. Alongside headliners ASP, VNV NATION and WITHIN TEMPTATION, the British Goth Rock legends and other new additions will take to the stage. On the 10th and 11th of August, a total of almost 40 bands will perform at the Hildesheim-Drispenstedt venue.
There are only a few bands that laden their music so meaningfully quite like FIELDS OF THE NEPHILIM. Formed around mastermind Carl McCoy their music surrounds the listener with elements of different mythologies. These are interwoven into dark, sometimes grim but poetic sounds with McCoy's punchy vocals closely intertwined with the guitar and bass lines. Even after more than 35 years the bands influence on the genre can be seen and visitors to M'era Luna will be able to see for themselves that with this line up they have lost none of their live energy or spirit.
LACRIMOSA are also known to distil their own sound from a variety of influences, just as JOACHIM WITT and DEATHSTARS have shaped the aesthetic of the scene for years - they will all prove this again this year at M'era Luna. The driving rhythms and traditional melodies of CORVUS CORAX are in good company and are contrasted by the EBM sounds of DIE KRUPPS, and electronic emphasis coming from DE/VISION and AGONOIZE. Also on board are SPETSNAZ, CENTHRON, FAELDER, TERROLOCAUST, EMPATHY TEST, FORMALIN, EWIGHEIM, FEAR OF DOMINATION, SCARLET THORN and YELLOW LAZARUS. This completes the line-up for the M'era Luna 2019. Further program items such as readings and workshops will be announced at a later date.
The complete line-up for the M'era Luna 2019 at a glance:
ASP | VNV Nation | Within Temptation | Fields Of The Nephilim | Subway To Sally | Lacrimosa | Mono Inc. | Joachim Witt | Combichrist | Deathstars | Oomph! | Diary Of Dreams | Corvus Corax | Versengold | Die Krupps | Suicide Commando | De/Vision [:SITD:] | Agonoize | Zeromancer | Assemblage 23 | Stahlmann | Funker Vogt | Neuroticfish Spetsnaz | Melotron | [x]-Rx | Centhron | Heldmaschine | Faelder | Terrolokaust | Empathy Test | Sündenklang | Sono | Formalin | Ewigheim | Fear Of Domination | Scarlet Dorn | Yellow Lazarus
Tickets for 94 euros plus 5 euros garbage deposit can be found at www.meraluna.de, www.eventim.de or by phone +49 (0) 180 6-853 666 (0, 20 € / call from the fixed network, mobile max 0, 60 € / call).
M'era Luna is once again a meeting place for people from the Black Scene from all over Europe and the World every year to spend a peaceful and relaxing weekend with old and new friends. In addition to the top-class headliners, people enjoy the special atmosphere, the short distances, the medieval market or even the extravagant fashion show - all are among the main attractions for guests. Every year, around 25,000 extravagantly dressed fans attract around 40 national and international bands, an extensive supporting program, disco nights with scene DJs and numerous stalls.