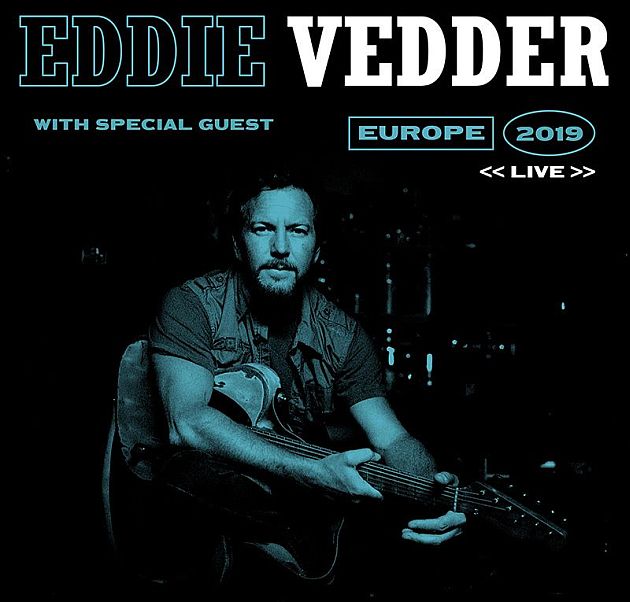 For summer 2019, EDDIE VEDDER announced several concerts in Europe. During that tour, the PEARL JAM singer also comes to Berlin and Düsseldorf. The solo concerts of the PEARL JAM lead singer allow his fans to deal with his songs, his voice and his stories on a very personal level. During previous solo performances, Vedder mixed his program professionally with new interpretations of PEARL JAM classics ('Better Man', 'Just Breathe', etc.), cover versions of his musical idols and trips into his solo work.
Those concerts not only give the chance to listen to one of the biggest singer and songwriters of the younger Rock history in a comparatively intimate atmosphere, but also offer the unique opportunity to learn about the sources of the music legend - EDDIE VEDDER's inspiration and drive. Since 1990, EDDIE VEDDER is frontman of PEARL JAM. In 2007, he published the soundtrack to the movie 'Into the Wild', which also was his solo debut, and instantly won a Golden Globe for the song 'Guaranteed'. In 2012, Vedder's second album, 'Ukulele Songs', was honoured with a Grammy nomination for "Best Folk Album". On April 7, 2017, Vedder as a member of PEARL JAM was added to the Rock and Roll Hall of Fame.
Dates

June 28, 2019 - Berlin / Max-Schmehling-Halle
June 30, 2019 - Düsseldorf / Mitsubishi Electric Halle
Tickets

Ticket price: EUR 80.00 - EUR 100.00 plus fees.
Ticket sale at fan club "10 Club" starts on Friday, March 15, 2019 at 10 a.m.
Regular advance sale starts on Friday, March 22, 2019 at 10 a. m.
Tickets are personalized and will be sold exclusively via tickets.de.
Ticket limit: 4 tickets per customer
More information here: www.pearljam.com