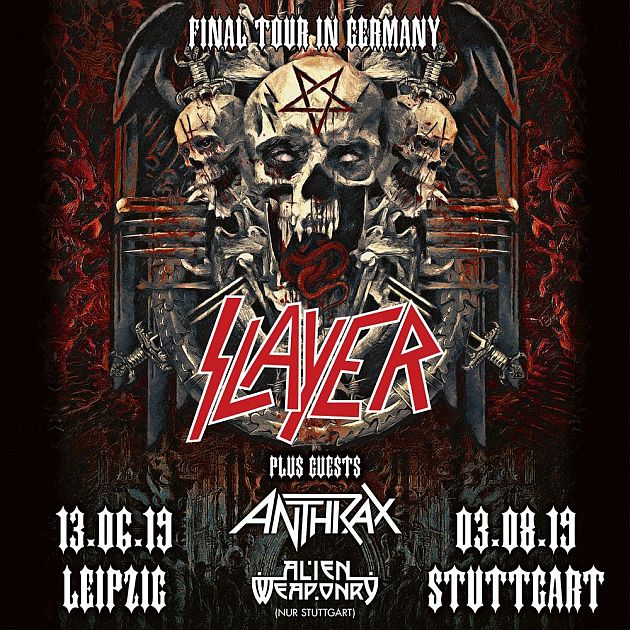 Concert in Balingen relocated to Stuttgart. SLAYER's last live show in Germany in summer 2019. Buy now tickets for Leipzig and Stuttgart.
The farewell comes closer. This summer, SLAYER will play their last concerts in Germany. For the concert on 3 Aug 2019, the location was changed. Originally planned for the Messegelände Balingen, the concert was relocated to the Schleyer-Halle in Stuttgart for logistic reasons. Already bought tickets for Balingen remain valid. The concert in Stuttgart is the final performance of the band in Europe. The concert on June 13, 2019 at the Arena Leipzig takes place as planned. For both dates, there are still tickets available at known booking offices, please call the nationwide ticket hotline +49 (0)1806 - 777 111 (20 ct./call - mobile max. 60 ct./call) or visit the website www.myticket.de/slayer-tickets-248.html
Special guest for both shows is the legendary US metal band ANTHRAX. In Stuttgart, the heavy metal newcomers ALIEN WEAPONRY from New Zealand enter the stage as additional opener.
After they went down in history as one of the most brutal and aggressive bands, shaped an entire genre and thus became a cult act, that was a yardstick for all the other bands, now the time has come: SLAYER say goodbye. After 37 years, 12 studio albums, several live recordings, videos and box sets, almost 3,000 played concerts as well as two Grammy Awards and five nominations, an own exhibition at the Smithsonian Museum and the loss of their beloved brother and founding member, Slayer leave the big stage and their era comes to an end.
Thursday, June 13, 2019 - Leipzig / Arena
Special Guest: Anthrax
Saturday, Aug 3, 2019 - Stuttgart / Schleyer-Halle
Special Guests: Anthrax, Alien Weaponry
Show relocated from Balingen! Already bought tickets are still valid.
SLAYER – look back to the last 37 years:
Episode 1: www.youtube.com/watch?v=UJe1A5M4t3o
Episode 2: www.youtube.com/watch?v=MsliP7optgE
Further information: www.slayer.net / www.facebook.de/slayer
Source: Press Release