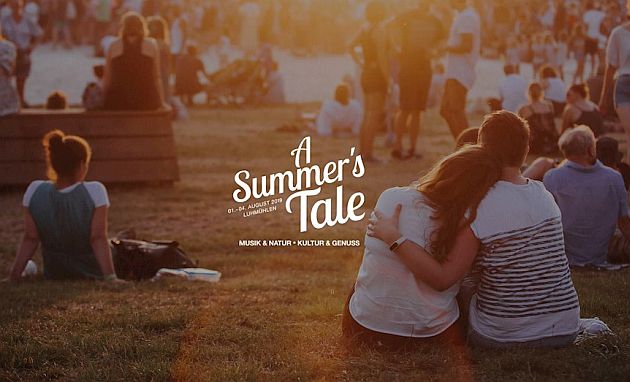 From August 1 – 4, the Eventpark Luhmühlen again turns into a diverse microcosm full of music, culture and varied programme items that deal with current topics. Besides music acts like ZAZ, ELBOW, SUEDE, MICHAEL KIWANUKA, TINA DICO, MAXIMO PARK, XAVIER RUDD, KATE NASH, DERMOT KENNEDY or FABER, the festival once again awaits with scientific institutions and NGOs. Further, the range of readings and shows is extended.
Already in 2013, the Austrian media wrote about Stefanie Sargnagel as the most important Austrian author of the 21st century. Since then, the author and satirist went through almost every controversy. In her texts, which she will introduce during this year's A Summer's Tale, she processes serious issues like feminism, hopelessness and depressions in a comic way. Also comedian Hinnerk Köhn deals with the latter and adds embarrassing moments of his life, his youth in the province and Oldesloer Doppelkorn, so the stage turns into a mixture of Heinz Strunk, Moritz Neumeier and the melancholy of an ANNENMAYKANTEREIT song. Next in line of confirmations are the live talk guests of Thorsten Nagelschmidts Nagel mit Köpfen. The author and MUFF POTTER singer talks to the successful crime novel author Simone Buchholz from Hamburg and the cultural multi-talented Gereon Klug, who indeed has not yet written a novel, but has to offer various other exciting things like a musical project with Andreas Dorau. In the evening, A Summer's Tale invites to a Kneipenquiz (bar quiz) and Bingo.
After its premiere at A Summer's Tale in 2018, this year, the successful cooperation continues with WWF Wildnis. They come with their own tent, and old and young people can go on a journey of discovery and learn a lot about wildlife and its protection. Furthermore, there are daily workshops and crafting events. With their speech "Tiger Tales", experienced nature conservation experts invite their guests on a journey into the woods of Sumatra and explain what makes tigers so unique and why our fascination for big cats is mostly their biggest thread. During the WWF Living Planets Lecture, the audience goes on an impressive multimedia trip and learns about the current condition of planet earth. At the research centre DESY in Hamburg (Deutsches Elektronen-Synchotron), the entire microcosm variety is explored, starting with the interplay of least elementary particles and the behaviour of innovative nano materials and ending with vital processes between biomolecules. This year, some of the researchers working at DESY are guests at A Summer's Tale and give fascinating insights into their work.
"Viel Lärm um Nichts? – Woraus besteht das Universum" (much ado about nothing – what is the universe consisting of) is the name of a speech of Dr. Marc Wenskat, which is about the question, why the most empty room – the universe – is also one of the biggest and most fascinating mysteries. Visually stunning and breath-taking is the multimedia presentation "Regenwälder – Leben im Dschungel" (rainforests – life in jungle) of National Geographic photographer Dieter Schonlau, who will share his impressions about how to travel to the most remote places in the world together with his wife since almost 30 years. This presentation is also offered in a kids version. Micro adventures right in front of the own front door are theme of the speech "Raus und Machen" (go out and do it) of bestseller author Christo Foerster, which is explained honestly, entertaining, eyeball to eyeball and with lots of inspiring and even bizarre examples. Because of the fact that he is an expert in this field, he further offers a workshop with tips on "Draußenschlafen" (sleeping outdoors). The Detox-Pflanzenwanderung (detox plants hiking) is addressed on the mostly unused potential nature has to offer to us humans. The culinary workshop "Kleine Tiere – Große Potentiale" (small animals, big potentials), which deals with insects as alternative protein source and their use and preparation. Try and taste!
UNICEF, the child welfare organization of the United Nations, takes part in A Summer's Tale with the interactive hands-on radio play "Nie oder Jetzt" (never or now). The guests become time travellers from an unknown future and take part in this interactive hands-on radio play to create a positive change. Because people of every generation feel good during A Summer's Tale, it was obvious to cooperate with the initiative Oll Inklusiv. Initiator Mitra Kassai visits the festival together with a group of seniors and senioritas, how she affectionately calls them. At the Tale's Café, she explains why the present 60+ generation ages differently than the generation of their parents, and she shows approaches for an inspiring togetherness. Aladin El-Mafaalani is a professor for political sociology at the Ruhr University in Bochum, and with his diagnosis of the present called "Das Integrationsparadox" (the integration paradox), El-Mafaalani undertakes an exciting revaluation regarding an integration free of conflicts.
All information about A Summer's Tale 2019 at asummerstale.de.
Tickets for A Summer's Tale are available starting from EUR 49.00 (music tickets for the stage programme from early evening, for Friday, Saturday or Sunday) in different versions. Single tickets for Friday, Saturday or Sunday are available starting from EUR 69.00, two-day tickets for Friday and Saturday or Saturday and Sunday can be ordered for EUR 99.00 and more. Combined tickets start from EUR 134.00 (ticket for all four festival days without camping). Students and pupils pay a reduced admission price. Owners of a ticket inclusive comfort camping, who arrive without their own tent, have the opportunity to book a comfort package to fall into a well-feathered nest. More information at asummerstale.de/de/wohnen.
The up to now confirmed programme overview

---Concerts---

ZAZ | ELBOW | SUEDE | MICHAEL KIWANUKA | TINA DICO | MAXIMO PARK | XAVIER RUDD | KATE NASH | DERMOT KENNEDY | FABER | LEE FIELDS & THE EXPRESSIONS | THE CHARLATANS | DIE HÖCHSTE EISENBAHN | MOGLI | SHANTEL & BUCOVINA CLUB ORKESTAR | WINGENFELDER | MINE | JOAN AS POLICE WOMEN | DIE GOLDENEN ZITRONEN | DIE NERVEN | WHITNEY | CLICKCLICKDECKER | HELGEN | STEINER & MADLAINA | RAYLAND BAXTER | TRIXIE WHITLEY | CAT CLYDE | JERRY WILLIAMS | MEADOWS | MATZE ROSSI
---Shows & Performances---

11 FREUNDE LIVE | NAGEL MIT KÖPFEN | TIERE STREICHELN MENSCHEN | POETRY SLAM | SARAH BOSETTI | HINNERK KÖHN | ZWEI AUF'M BAGGER | HAMBURGER KNEIPENCHOR | HANSEMÄDCHEN | KNEIPENQUIZ | BINGO
---Readings---

STEFANIE SARGNAGEL | RONJA VON RÖNNE | JOHN NIVEN | GIULIA BECKER | ANJA RÜTZEL | JENS EISEL
---Perspectives & Portraits---

ZUHÖR-KIOSK "DAS OHR" | EIN DEUTSCHES KLASSENZIMMER | ZU FUSS DURCH EIN GESPALTENES LAND | CITIZEN SCIENCE | A GLOBAL MESS | DIGITAL ARBEITEN IM GRÜNEN | GRENZEN SIND RELATIV | KAFFEE MIT KÄUZCHEN | NIX ALS KLETTERN IM KOPF | OLL INKLUSIV | RAUS UND MACHEN | DAS INTEGRATIONS-PARADOX
---Family & Kids---

BUMMELKASTEN | D!E GÄNG | RABAUKEN & TROMPETEN | ZIRKUS YOGA FÜR KIDS | FAMILY YOGA | KINDERTANZ | KARATE FÜR KIDS | SONG-WORKSHOP MIT RABAUKEN & TROMPETEN | REGENWÄLDER - LEBEN IM DSCHUNGEL *KIDS-EDITION* | ZWERGSTADT | ZEIT LEO FESTIVALZELT
---Workshops & Outdoor---

HOT SHOTS | WEIN MIT ALLEN SINNEN | KLEINE TIERE - GROSSES POTENTIAL | REGENWÄLDER. LEBEN IM DSCHUNGEL | ENTSCHEIDE DICH. RICHTIG. | WWF LIVING PLANET LECTURE | WWF TIGER TALES | VIEL LÄRM UM NICHTS? | DRUM CIRCLE | FEETUP YOGA | VINYASA YOGA | YIN YOGA | HANDSTAND WORKSHOP | ACRO YOGA | THAI MASSAGE WORKSHOP MEDITATION | HATHA YOGA | MÄNNER YOGA | KARATE FÜR ERWACHSENE | SWING | NORTHERN SOUL | ELECTRO SWINGSEEDBALLS | WOODWORKING ZIRKUSSCHULE | KANU | ELEPHANT WALK | DETOX-PFLANZENWANDERUNG| DRAUSSENSCHLAFEN | WWF-WILDNIS | NIE ODER JETZT - UNICEF MITMACHHÖRSPIEL | KONIFEZ | POSTERKRAUTS SIEBDRUCK AUSSTELLUNG
Source: Press Release