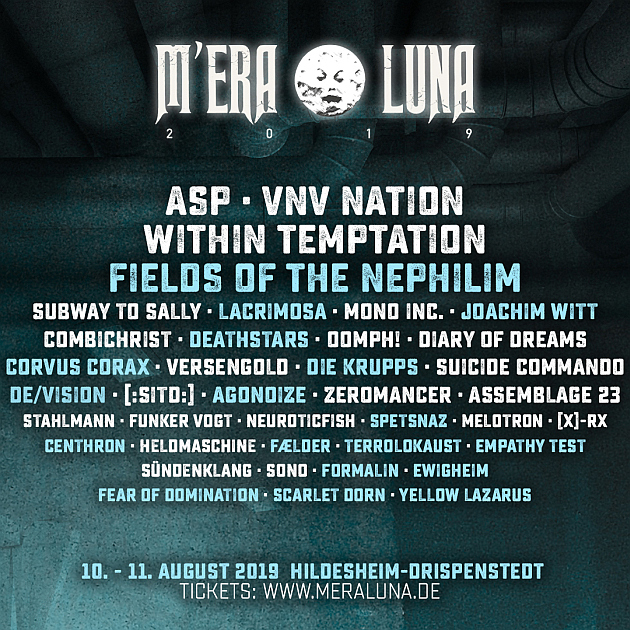 Dear friends of the written word. Not only to the bookworms of you, the Friday evening at the Disco-Hangar is recommended. Traditionally, since years here come all those together, who love the sometimes more, sometimes less morbid entertainment and the fantasy genre, who want to meet their favorite authors or who just like good stories. One thing is for sure: the readings at the M'era Luna are the stuff great cinema is made of, or better said: the stuff great books are mode of! No others than our beloved permanent guests Markus Heitz and Christian von Alster will turn the pages over and read from their latest works. We further are pleased to welcome Axel Hildebrand, who introduces us to Nordic gods…
Markus Heitz

At the M'era Luna, Markus is holding the premier reading to his publication of the second season of 'Doors', which shows up on August 1, 2019. Parallel, three books of that season are published, which of course can be bought on site at the book table. 'Doors'is a new book concept of the Spiegel bestseller author. During season one and parallel with the published books 'Doors ! – Blutfeld', 'Doors X – Dämmerung', and 'Doors ? – Kolonie', the reader is forced to choose: three books, three alternative stories, three doors – which one of them does he wants to open? Season two also comes along with three published books, each showing another reality. And again the readers have to make a choice, which world they want to enter first.
Christian von Aster

Quasi tone-in-tone, Mr. von Aster offers deep-black fruits from ten years of loving Goth invective to the monochrome audience. Between the 'Zeugen Patchoulis', the 'Getöpferter Heinzelmann', 'Haus Gruftenblick', the 'Mitternachtshüpfburg' and other classics of his midnight humor, at the outer edge of darkness, a new sinister adventure for not wholly humorless representatives of the 'IG Untergeschossgelächter' is manifested.
Axel Hildebrand

Axel writes books about Nordic mythology and he is a screenwriter. He wrote so many things for TV and with his books 'Die unverfilmten Drehbücher von Loki und Thor – Aussen Asgard Tag 1 und 2' he will be our guest. Order meets chaos – protector of the people meets chaos bringer – Thor meets Loki – two gods, who could not be more different. Frequently, the two – who are officially uncle and nephew because Loki is related by blood with Odin – are only surrounded by each other before the gates of Asgard. And here they start a conversation about this and that happens in Midgard and Asgard, and some philosophical questions are asked:
Is it still okay to smoke in Asgard?
Are curls and a beard a sign of being gay?
Should toilets be labelled?
How much is humor hurting?
Should vegetarians walk over meat?
Is Botox helpful – in case of yes – whereby?
Loki and Thor give the answers. Screenwriter Axel Hildebrand wrote down the conversations in a way they would never ever happen for sure.
Long nights at the Disco Hangar

To turn the M'era Luna nights at the Disco Hangar into an ecstatic experience like the year before, again we put the turntables into competent hands. The DJs are:
Friday

Der Schulz / Unzucht
Bruno Kramm / Das Ich
Chris L. / Funker Vogt and Agonoize
Saturday

Andy Krüger / Melotron
Ronan Harris / VNV Nation
Mike Kanetzky / Matrix Bochum
Gothic Garden

Welcome to the land of black comfort: The Gothic Garden is an idyllic island directly before the gates of the event area – on the shortest way connected with the stages, the medieval market and Fashion Town. The Gothic Garden offers all amenities to make the festival more exclusive, more pleasant and more relaxed. A garden in the centre of the M'era Luna!
Tickets

Combined tickets available for EUR 104 plus EUR 5 garbage fee at www.meraluna.de, www.eventim.de or by phone at 01806 - 853 666 (20 cent/call from landline network, mobile network max. 60 cent/call).
Ticket shop https://www.meraluna.de/de/tickets/
Source Press Release