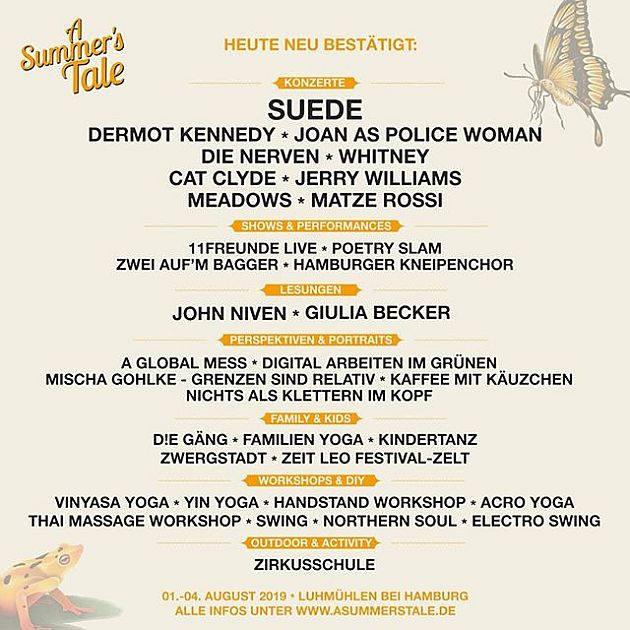 In less than four weeks, in Luhmühlen in Lower Saxony, fairy-tale times are coming for all fans of exquisite music and culture in the open air. A Summer's Tale takes place for the fifth time from August 1 - 4 and offers its audience once more an inspiring programme. Among others, this year music acts like ZAZ, ELBOW, SUEDE, MICHAEL KIWANUKA, TINA DICO, MAXIMO PARK, XAVIER RUDD, KATE NASH, DERMOD KENNEDY, FABER and many more are on stage. Furthermore, readings, shows and performances, presentations and a versatile active programme wait for the festival guests.
Up to now, some names still were unsure to announce, but here we go: The singer /songwriter and German Indie-Piano king ENNO BUNGER will enchant the audience on Friday. Also give a try to the Zimbabwean-British singer/ songwriter KELVIN JONES. The musicians DAS PARADIES live up to their name with respective sounds. The Indie-Pop trio WHENYOUNG, the Irish songwriter AMY MONTGOMERY and TOM KLOSE from Hamburg stand for hand-made and emotional sounds that carry away and go under the skin. Further, new in line is the author HEINZ STRUNK with a reading of his latest book "Das Teemännchen", a comic reading of the artist KRIEG & FREITAG and the Shortfilm Sessions that are again shown in cooperation with the KurzFilmFestival Hamburg.
When the stage programme is over, the festival goes on, and at midnight, the after-show parties start at the Festival Atelier, and the night turns into a discotheque. Here, the guests can dance until the morning hours, e.g. at the "Friday, I'm in love" party.
Furthermore, the Timetable for the fifth edition of the music and culture festival in the Lueneburg Heath is fixed now and callable at www.asummerstale.de. Everyone who already bought a ticket, can now sign up in advance on the website for a part of the available workshop places.
Source: Press Release