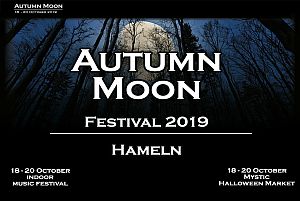 AUTUMN MOON Festival Hameln 18 – 19 Oct 2019 (Oct 18 – 20, 2019 Mystic Halloween Market) among others with: Project Pitchfork, Sólstafir, Alcest, Coma Alliance, Cellar Darling, Heilung, Das Ich, Nachtmahr, Goethes Erben, Rome, Merciful Nuns, Frozen Plasma, Unzucht! Full line-up see below, please. News from the promoter! The festival is expanded for a third day. The "Lazy Sunday" puts forward an extensive programme, e.g. a band contest.
There is a new outdoor stage, the "Church Stage". Thus, the programme will be more extensive. Like all the other outdoor stages and the Halloween Market, the stage is freely available, what means more fun for free. A new, spectacular fire show will illuminate the evening/ nocturnal hustle at the Halloween Market and the Weser Promenade. Additionally, there are more workshops. Furthermore, the festival organizers undertake diverse measures for more sustainability. The "Schiff Stage" is upgraded by a larger ship, more space, and more audience. AND, there are more accommodations are in planning. Keyword: Container Hotel. More information coming soon!
New additions to the line-up: Adam Is A Girl, Attic., Herr Christian von Aster, Illusoria, Night Nail!
Presale tickets

http://pec-tickets.de/produkt-kategorie/tickets
EUR 78.00 incl. VAT, plus shipping – two-days ticket (Oct 18 - 19)
EUR 54.00 incl. VAT, plus shipping – Friday (Oct 18)
EUR 56.00 incl. VAT, plus shipping – Saturday (Oct 19)
Festival creator, driving force and soul Dominik Wrehl promises: "The party 2019 will become bigger than any other before." Besides the picturesque scenery of the Hameln Weser Promenade, the varied locations, the short ways, the familiar atmosphere and the mystic, imaginative decoration of the area, the organizers make a direct hit with the exciting line-up mix and the long play times for every band to make it possible for them to present themselves adequately and to create the right mood - a perfect thing for stage hopping friends, truffle finders and fans.
Line-up 2019 (in alphabetical order)
Adam Is A Girl, Alcest, Attic., Burn, C-lekktor, Cellar Darling, Christian von Aster, Coma Alliance, Corlyx, Cygnosic, Dark Side Eons, Das Ich, EmBRUN, Forgotten North, Frozen Plasma, Girls Under Glass(80s Set), God Module, Goethes Erben, Heilung, Illuminate, Illusoria, Irfan, Kowalski, Krayenzeit, Maccabe & Kanaka, Merciful Nuns (last show ever), Microclocks, Monsieur Pompiers Traveling Freakshow, Nachtmahr, Nachtsucher, Night Nail, Omnimar, Patient,Patient, Peter Wolff, Pink Turns Blue, Priest, Project Pitchfork, QFT, Rome, Rroyce, Siva Six, Snow White Blood, Solitary Experiments, Sólstafir, The Dark, The Mescaline Babies, The Shiver, The Sigourney Weavers, Tibetrea, Unzucht, V2A, Vlad In Tears, VV & The Void, Ye Banished Privateers,
Source: Press Release