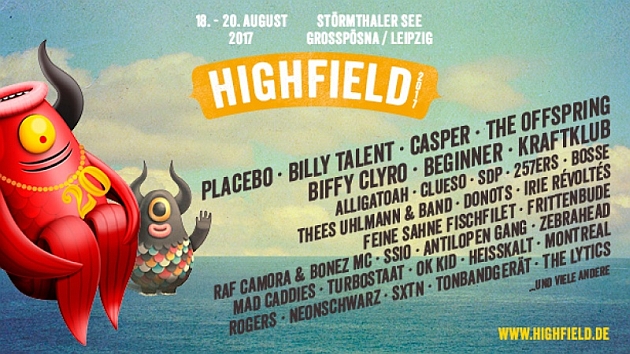 It starts again, friends of the Störmthaler See and of all the mysterious creatures living in there. Today, the Timetable ascended from the depth, and for all, who do not attend the full festival, day tickets are now available at the ticket shop. With the timetable, you can plan your Highfield experience. Furthermore, the beach programme for the right holiday feeling is in progress, and one or more new acts will be added. More about this later. Download the timetable via
https://www.highfield.de/de/interaktiv/downloads/
Becks Pre-Order

Pre-order and enjoy ice-cold! You don't like warm festival beer? You don't have enough space in your car or you are sick of dragging? Then the Becks Pre-Order is the right thing for you: pre-order now your ice-cold Beck's canned beer and get it then at the camping site. Enjoy ice-cold. No dragging, no stress, no joke! https://www.highfield.de/de/interaktiv/shop/#beck-s-pre-order2
My tent is already pitched

All of you, who want to start into a relaxed festival weekend without lots of luggage and time pressure, rent your tent at "mein-zelt-steht-schon". Before the festival starts, book a tent with accessories, which is then pitched for you on site, and all you have to do is - move in! Book now: https://www.highfield.de/de/wohnen/mein-zelt-steht-schon/
PENNY

All you need to party - that was PENNY at the Highfield 2018! A look behind and in front of our stores. Backstage at PENNY with breakfast, veggie snacks, beer and barbecue stuff for usually favourable discounter prices. In case you do not want to miss any news, subscribe for the PENNY goes Party WhatsApp newsletter at pennygoesparty.de/community
Win Highfield boat tour

AOK PLUS raffles 10 barbecue island vouchers in total, which you can redeem during the Highfield and which take you on a boat trip at the Störmthaler See. It's nothing but recovery to take a break from dancing and singing. Come with your friends to enjoy the barbecue island. On board is the AOK PLUS health barbecue package with delicious gourmet barbecue stuff. Take your chance: https://www.aokplus-online.de/festival19?seccod=hfk19_nl_hf
Be good to your ears, use ear plugs!

We feel it's important, that you can enjoy music on a life-long basis. Therefore, the Highfield provides special Alpine filter ear plugs, which protect your ears 24 hours a day. Alpine PartyPlug ear plugs have special music filters that still let you hear music and talking perfectly. They are very comfy and can be used about hundred times. Read more: https://www.alpine-gehoerschutz.de/musik
Deezer x Highfield – The official playlist 2019

Already downloaded the festival check list and made your purchase for the Highfield? No? No problem, it should not be overdone. What can't be done early enough, is to play the soundtrack of the upcoming festival. Check the line-up with the official Highfield festival playlist 2019 on Deezer, listen to your favourite artists or fall in love with that band or those. Playlist: https://www.deezer.com/de/playlist/5210886664
Tickets

Tickets are available online at highfield.de for EUR 149.00 incl. presale fee, plus EUR 5.00 garbage pledge, or by phone at 01806 853 555 (20 cents/fixed line call, mobile network max. 60 cents/call).The price for a one-day ticket starts at EUR 69.00. Visitors arriving with a caravan, trailer, or similar vehicle, need a caravan plaque for EUR 45.00 to get access to the caravan parking place.