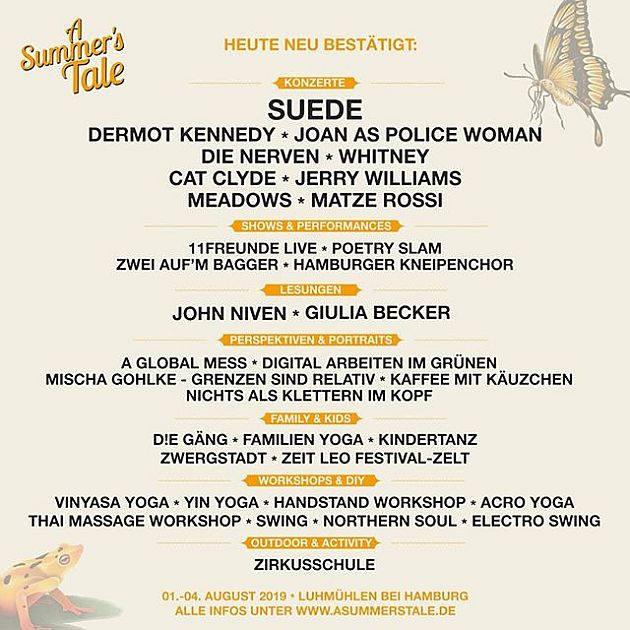 For the fifth time, last weekend the A Summer's Tale Festival brought music, culture, and a versatile workshop programme to the flourishing Lüneburg Heath. The weather was great all the time, that's why a lot of spontaneous guests came to Luhmühlen. In total, 13,000 festival tickets was sold in advance and at the box office.
Once again, the 2019 edition of the A Summer's Tale convinced with a successful mixture of concerts, a witty culture programme and numerous workshops and activity offers. On Friday and Sunday, SUEDE and ELBOW put the guests into rupture with their rocking guitar sounds, while the French singer ZAZ invited for dancing, singing and indulging on Saturday. MICHAEL KIWANUKA brought soul to the Heath, TINA DICO enraptured with emotional songs, MAXIMO PARK played indie hits and XAVIER RUDD presented the perfect summer weather sound. There was a very good atmosphere in the audience, when KATE NASH, THE CHARLATANS, DIE HÖCHSTE EISENBAHN and for sure ShANTEL & THE BUCOVINA CLUB ORKESTRA were on stage. For DERMOT KENNEDY, who cancelled his gig for health reasons, KETTCAR filled in spontaneously, and their set obviously was a pleasure for the audience.
This year, the picturesque forest stage was the second musical hotspot of the A Summer's Tale. Compared with the years before, a lot more acts were on stage, e.g. the pop artists MOGLI und MINE, the punk institution DIE GOLDENEN ZITRONEN or the singer-songwriter ENNO BUNGER. Especially intimate concert moments happened at the Grüne Salon, among others with MEADOWS and the new Secret Gigs on Sunday with MORITZ KRÄMER und MOGLI. The football talk 11 FREUNDE LIVE, the readings of HEINZ STRUNK or GIULIA BECKER and the literature talk NAGEL MIT KÖPFEN amused the audience with witty humour and entertaining anecdotes. Because of the new distribution of the area, there was even more space for the very popular workshop programme with yoga, creative courses and culinary workshops.
"We are very pleased that the fifth episode of the A Summer's Tale inspired so many guests, and we look back to summerly festival days and a smooth flow in total. Every year, the A Summer's Tale is a highlight of the festival season for our entire team, that's why we are particularly proud, that the concept is so well received by the audience and the artists on stage. That neither the police nor the medical service reported notable events, underlines the harmonic character of the event", balances Folkert Koopmans, CEO at the organizer FKP Scorpio, at the end of festival on Sunday evening.
All information regarding the next A Summer's Tale will be announced soon. Like the years before, NDR Info recorded several performances at the concert stage for sound broadcasting. The broadcast dates will be published in short at www.ndr.de/info.
Source: Press Release