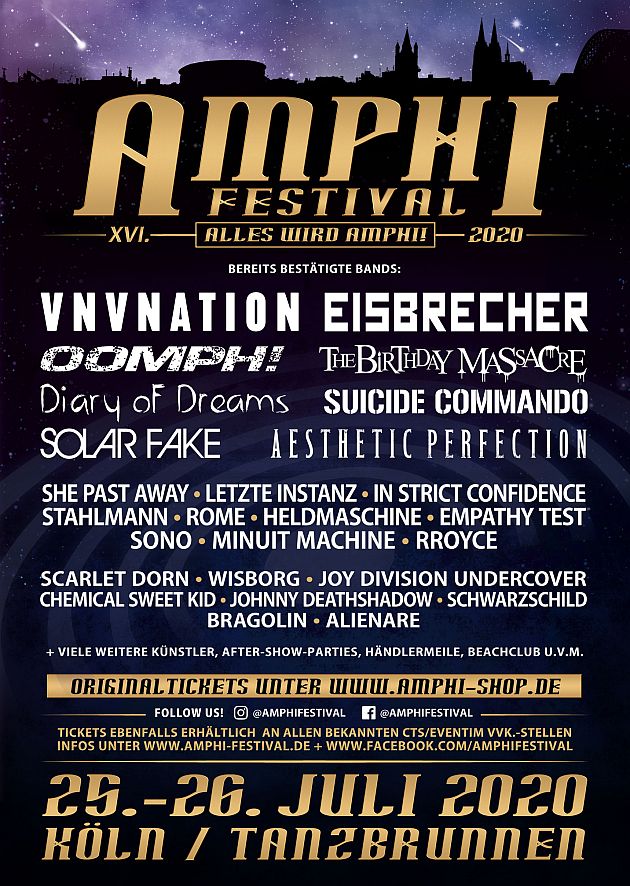 Great tidings want to be shared and with today's big news you may already wish yourself forward to the next summer!
Following the earlier announcement of VNV NATION, EISBRECHER complete the dynamic headliner-duo for Amphi Festival 2020. A striking one-two punch combination, ready to instantly send you to the dancefloor! THE BIRTHDAY MASSACRE, DIARY OF DREAMS and SUICIDE COMMANDO of course seamlessly join the array of energetic powerhouses on stage. From electronic and minimalistic post-punk to raw guitar-riffs we invited even more masters of their craft, including SHE PAST AWAY, IN STRICT CONFIDENCE, ROME and HELDMASCHINE.
Finally Amphi would not be Amphi without a thrilling selection of bands to appear at the festival for the first time. Please welcome SONO, MINUIT MACHINE, SCARLET DORN, WISBORG, CHEMICAL SWEET KID, JOHNNY DEATHSHADOW, SCHWARZSCHILD, BRAGOLIN and ALIENARE.
PRE-SELLING VIA EVENTIM & DAY TICKETS AVAILABLE NOW!

In addition to the pre-selling at the Amphi Shop, Amphi Festival tickets are now also available at all CTS/EVENTIM box-offices, via www.eventim.de, www.oeticket.com, www.ticketcorner.ch and as PRINT@HOME edition. In the course of the action also the current day tickets for 2020 have become available. Hence we already published a first line-up distribution by days (subject to change) on the website at www.amphi-festival.de/2020/bands.html.
Original Amphi Festival tickets (including day tickets) and "Amphi/E-tropolis 2020" combi-tickets are exclusively available at Amphi Shop, www.amphi-shop.de!
Additional festival information is available as always at www.amphi-festival.de or www.facebook.com/amphifestival. Also follow at www.instagram.com/amphifestival! #amphi20 #amphiziert
XVI. AMPHI FESTIVAL 2020
25. & 26.07.2020 - COLOGNE | TANZBRUNNEN
VNV NATION + EISBRECHER + OOMPH! + THE BIRTHDAY MASSACRE + DIARY OF DREAMS + SUICIDE COMMANDO + SOLAR FAKE + AESTHETIC PERFECTION + SHE PAST AWAY + LETZTE INSTANZ + IN STRICT CONFIDENCE + STAHLMANN + ROME + HELDMASCHINE + EMPATHY TEST + SONO + MINUIT MACHINE + RROYCE + SCARLET DORN + WISBORG + JOY DIVISION UNDERCOVER + CHEMICAL SWEET KID + JOHNNY DEATHSHADOW + SCHWARZSCHILD + BRAGOLIN + ALIENARE + many additional artists & supporting programme coming soon
Source: Press Release