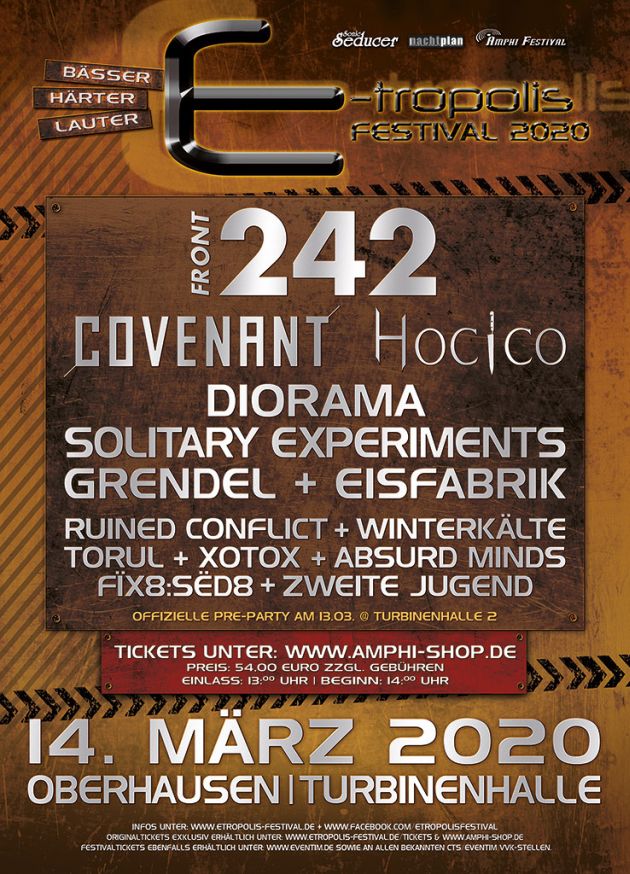 Dear E-tropolis Fans, if "flat-out to the floor" already feels great, shifting into overdrive delivers even more of a thrill! With the 10th E-tropolis Festival again we charged the pistons with an extra-load of steam and invite you to a major attack on the dancefloor! Fourteen bands from three generations of dark electronic music await you.
FRONT 242 + COVENANT + HOCICO + DIORAMA + SOLITARY EXPERIMENTS + GRENDEL + EISFABRIK + RUINED CONFLICT + WINTERKÄLTE + TORUL + XOTOX + ABSURD MINDS + FÏX8:SËD8 + ZWEITE JUGEND
Rightfully so, we don't miss the opportunity to ring in this special anniversary with the official pre-party. On Friday, 13th March, we scorch the ground of Turbinenhalle 2 together, before we kick off the main event on Saturday, 14th March, across all floors. Just to remind you again, the OFFICIAL PRE-PARTY and THE AFTER-SHOW PARTY are both included in the festival ticket.
E-TROPOLIS FESTIVAL X - rough shape, loud core! Let's dance, scramble in friendly manner and enjoy ourselves! Grab your ticket(s) now, before it is too late...
TICKET PRE-SELLING
The official Amphi-Shop at www.amphi-shop.de offers the popular original design E-tropolis-Tickets and 5+1 group tickets. You can also buy "E-tropolis/Amphi 2020"-combi-tickets here, granting you a price advantage over the standalone tickets for each festival. Additionally pre-selling of E-tropolis tickets is up and running via the known CTS/EVENTIM box-offices and online at www.eventim.de (incl. PRINT@HOME).
More info at: www.etropolis-festival.de | www.facebook.com/etropolisfestival
Source: Press Release