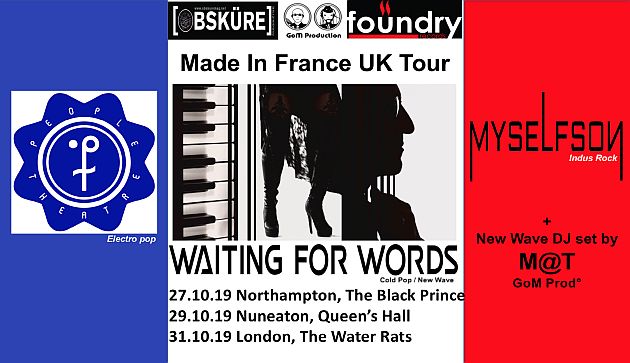 WAITING FOR WORDS supported by PEOPLE THEATRE, MYSELFSON &DJ M@T! From 2005 to 2011, the French cult Synth Pop act WAITING FOR WORDS toured UK several times, visiting Coventry, Leamington, Birmingham, Leicester, Nuneaton or London, including some cult venues such as The Underworld or The Spa, building up a strong reputation of solid performers, mixing video screenings and powerful electronic rhythms (with an impressive live drummer), catchy Pop tunes and a stunning lead performer. Two intensive years touring the world followed by changes in the line-up, a cover album to celebrate the band's 25th anniversary and most of all, two more years spent recording the critically acclaimed new album, 'Egocracy', took the band away from UK for quite sometimes.
After Greece, France, planned gigs in Germany and Belgium, it was about time for WAITING FOR WORDS' "Egocracy Tour" to hit UK... and this time, they bring some other bands in their tour bus for a "Foundry Records' French Touch UK Tour".
First off, PEOPLE THEATRE: After decades producing and remixing almost all the European synth scene (Nitzer Ebb, IAMX, Ann Clarke, Erasure, Bronski Beat... to name a few), Peter Rainman started a trilogy of EPs, with already 'Act I' (Dare At Dawn, 2017) and 'Act II' (Staring At Sun, 2019) released and live shows around France. The live duet proposes an intense and danceable EBM / Club oriented strong repertoire. And in a more Industrial Electro Rock style, the recently signed MYSELFSON released a critically acclaimed debut album, 'Memory Park'. The duet spent most of the last decade touring in France, shaping their sound and sonic identity and the result with this album is stunning. The party will end up with a New Wave DJ Set by DJ M@T of famous French team M@T &; Golem XIII (GoM Production).
Dates
27th Oct 2019 – Northampton, The Black Prince
29th Oct 2019 – Nuneaton, Queen's Hall
31st Oct 2019 – London, The Water Rats
Source: Press Release