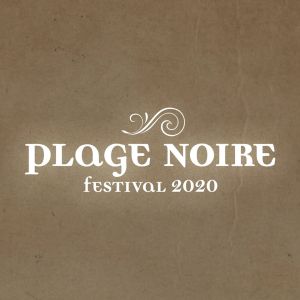 With the next edition on April 24 and 25, 2020 at the Ferien- und Freizeitpark Weissenhäuser Strand, the indoor festival Plage Noire writes the next chapter of its book about becoming a legend. As the years before, also in 2020 there will be 4,000 fans of the dark music scene expected to arrive at the Baltic Sea to experience how more than 25 bands wrap the Ferienpark with dark sounds and how the myth of mysterious festival character Isabelle LeFavre goes into the third round.
Currently, the biggest part of the tickets inclusive two overnight stays is sold out. After sixteen new names were announced, the play days for all acts are fixed, and there is a strictly limited contingent of tickets available that do not include overnight stay.
Welcome the successful Gothic duo L'ÂME IMMORTELLE, the Swedish Death Metal band DEATHSTARS, the EDM formation SPETSNAZ from Örebro, the American Aggrotech project AESTHETIC PERFECTION, as well as the Neue Deutsche Härte band HELDMASCHINE. Further acts is the Medieval Metal band VOGELFREY, the Synth Pop artists SONO from Hamburg, the British Dark Wave combo MASSIVE EGO, the Belgian Wave band WHISPERING SONS, the dark Synth Poppers FUTURE LIED TO US, the Swedish Electronic duo VANGUARD, further SEELENNACHT, ADAM IS A GIRL, STERIL, NIGHTNIGHT, and ANY SECOND.
On festival day one, there will be on stage: HELDMASCHINE, WHISPERING SONS, FUTURE LIED TO US, ADAM IS A GIRL, ANY SECOND, FIELDS OF THE NEPHILIM, SCHANDMAUL, DIARY OF DREAMS, ASSEMBLAGE 23, FUNKER VOGT, and DAS ICH. For day two, the following bands are scheduled: FRONT 242, L'ÂME IMMORTELLE, JOACHIM WITT, DEATHSTARS, [:SITD:], SPETSNAZ, STAHLMANN, AESTHETIC PERFECTION, MELOTRON, VOGELFREY, SONO, MASSIVE EGO, VANGUARD, SEELENNACHT, STERIL, and NIGHTNIGHT.
In the last years, Plage Noire made its mark because of artful stage performances and the attention to detail when it comes to the scene-typical framework programme. Accordingly, the guests can expect surprising productions in regard to the festival legend, aesthetic fashion walks, interesting workshops, and autograph sessions with the bands, a much bigger Gothic bazaar, and many more.
Right now, there are just a few tickets available that include two overnight stays at a three-room apartment (70sqm) from EUR 199.99 per person. All other ticket categories with overnight stay are sold out. New in stock are tickets without overnight stay at the Ferien- und Freizeitpark. Tickets for both festival days cost EUR 129.00 incl. pre-sales charge. There are also single-day tickets available: Friday for EUR 65.00 incl. pre-sales charge, and Saturday for EUR 75.00 incl. pre-sales charge.
Source: Press Release / www.plagenoire.de