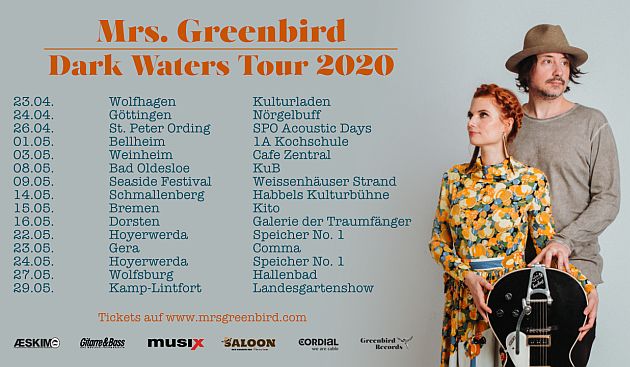 MRS. GREENBIRD are back with a new album, new programme, and a new sound. The two protagonists are civilly married since December 22, and on this year's Valentine's Day, there will be the wedding ceremony. Always, the Folk Pop duo from Cologne stands for real, authentic, and hand-made music full of profoundness and soul. Their new album is more of that than ever before: 'Dark Waters', released via their self-founded record label. MRS. GREENBIRD take their fate in their own hands, and prepare themselves for a magical show that goes deep under the skin.
This is just a short record of their success:
- More than 200,000 sold records
- Debut album chart positions: #1 in Germany (twice), #2 in Austria, #3 in Switzerland
- 2 ECHO nominations, seven-digit Spotify and YouTube streams
- Second album 'Postcards' recorded in Nashville, sold out concert at the world-famous Bluebird Café (Nashville/TN)
- LEA live Entertainment Award 2013 (best club tour)
- Tour with KATIE MELUA, CLARE BOWEN, TIM ROBBINS, ANASTACIA, RYAN SHERIDAN
Current dates

April 23, 2020 Wolfhagen, Kulturladen
April 24, 2020 Göttingen, Norgelbuff
April 26, 2020 St. Peter Ording, SPO Acoustic Days
May 3, 2020 Weinheim, Cafe Central
May 8, 2020 Bad Oldesloe, KUB
May 14, 2020 Schmallenberg, Habbels Kulturbühne
May 15, 2020 Bremen, Kito Vegesack
May 16, 2020 Dorsten, Galerie der Traumfänger
May 22, 2020 Hoyerswerda, Speicher No 1
May 23, 2020 Gera, Comma Clubzentrum
May 24, 2020 Hoyerswerda, Speicher No 1
May 27, 2020 Wolfsburg, Hallenbad
May 29, 2020 Kamp-Lintfort, Zechenpark Landesgartenschau
Oct 23, 2020 Gießen, Jokus
"Sometimes you have to step back and focus on what is really important."
After years on the road, hundreds of partially sold-out concerts, some award-winning tours and two albums produced in Germany and Nashville, that reached the top of the German charts, it was absolutely time for Sarah Nücken and Steffen Brückner, the heads and hearts of the Country Folk Pop duo MRS. GREENBIRD, to reflect, where they are right now. What is important in your life and in the music you are doing? On their search for answers, MRS. GREENBIRD decided to rethink old habits and to form a very new basis without unnecessary ballast and focussed on good, old, hand-made music with heart and soul, like "back to the roots". The consequence were many concerts as a duo, sometimes performed with just one microphone, but always with the clear intention of creating a connection with the audience, to make music together, to celebrate life, and to make the world a better place.
In June 2018, MRS. GREENBIRD took the last step towards independence, and released the first self-produced single 'One Day in June' as harbinger of their new album 'Dark Waters' via their own label Greenbird Records. The album also was produced on their own. MRS. GREENBIRD found themselves and they are back in a true, direct, grown up, intimate, private, and experimental way. Acoustic trademarks are still the same: sometimes pushing, sometimes spherical guitars, wishful crying lap steels, a dreamy vintage piano, Sarah's extraordinary voice, poetic lyrics, catchy melodies, and beautiful harmony in two voices. Call it singer songwriter Country Folk, call it Americana, call it whatever you want. Make your own experience with the unmistakable sound of MRS. GREENBIRD.
Source: Press Release