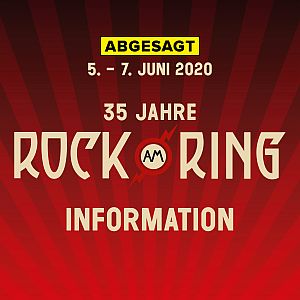 In their eventful and colourful history, Germany's most popular open-air festivals Rock am Ring and Rock im Park have faced unexpected and difficult situations more than once. Now the ban on all major events due to the corona pandemic until August 31 forced the cancellation of the anniversary events at the Nürburgring and in Nuremberg.
For the organizers and their teams, the artists and 175,000 fans who wanted to celebrate 35 years of Rock am Ring and 25 years of Rock im Park on the first weekend in June, this alternative decision is of course disappointing. Nevertheless, the producers have an unreserved understanding of this inevitable measure in the interests of the safety and health of everyone involved, however sad the cancellation of the sold-out twin festivals is. At the same time, they expressly thank the fans for their sustained support.
Together with the live music industry, all hopes are now focused on the time after the state of emergency ends. The renewal of the Rock am Ring and Rock im Park anniversary festivals is now scheduled for the second weekend in June 2021. Due to the details about the further processing, all ticket buyers are asked for a little patience. The organizers and their teams are working on concrete information about the exact procedure, which will be announced in the next step. Until then, fans are asked for understanding.
Save the date!
Rock am Ring - Rock im Park
11 – 13 June 2021
Source: Press Release