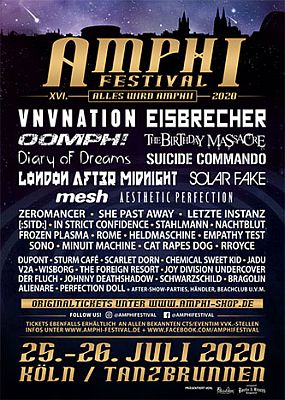 Due to the current Corona pandemic, also Amphi Festival is cancelled. Here is the official statement of the promoter:
"Dear Amphi Family,
regretfully we have to bend to the Corona virus and its consequences. Sadly, this means that the Amphi Festival 2020 and also Call The Ship To Port 2020 cannot take place! By yesterday's decree of the federal governors of the states and the German chancellor, all major events remain prohibited until 31 August 2020.
Momentarily we are rebooking this year's line-up for the Amphi Festival 2021, respectively Call The Ship To Port 2021 and we are very confident of being able to present a majority of the current line-up next year. All tickets, which have already been purchased for the Amphi Festival 2020 and Call The Ship To Port, remain valid for 2021. Please consider that you are immensely supporting the continued existence of the Amphi Festival (and thereby of its bands and service contractors), if you keep your ticket!
The Amphi Festival 2021 takes place on 24 & 25 July 2021, Call The Ship To Port on 23 July 2021!
If you cannot avoid refunding your ticket, we kindly ask for your patience in this matter until the conduct regulations, respectively the handling of the refunds, has been fully determined. Until then please desist from any further inquiries!
Rest assured, we are definitely keeping you posted about this matter! These are difficult times for all of us and we can only master this crisis together. Therefore, we thank you wholeheartedly for your understanding, patience and trust!
Stay healthy and all will be Amphi!"
Source: Press Release