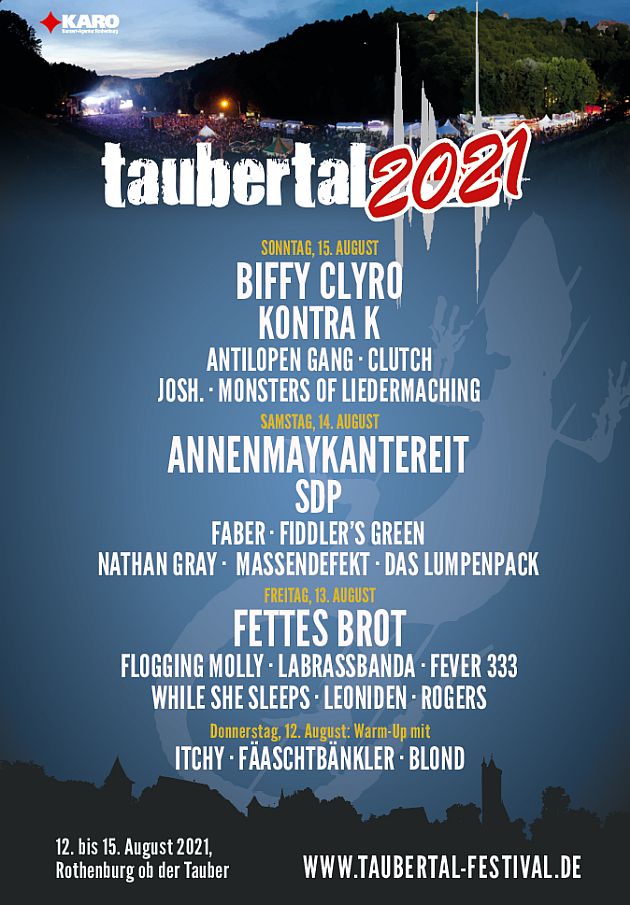 ALL artists from this year are moving into the next one! The 25th edition is now increasing from August 12th to August 15th, 2021. Tickets bought so far for the 2020 edition remain valid.
The Taubertal Festival has already existed for two and a half decades. Festival fans have to wait a year longer for the 25th birthday, which should have taken place from 7 to 9 August 2020. However, there is now good news: ALL artists who have been confirmed for this year are moving into the new year! The line-up will therefore take place exactly one year later in exactly the same form. "We are very happy and thank you very much," the organizers are pleased about it.
Already purchased tickets remain valid. The official sale of the 2021 tickets will begin shortly. It would normally have started yesterday, which would have resulted in a slight price increase to EUR 153. "However, it will take a few more days until our ticket system for 2021 is changed, so that for the next few days everything will remain as it is: 2020 tickets are still available at the old price, which are valid for 2021", the organizers say, so it pays to be quick. Those who already have a ticket will receive electronic mail these days: "We will separately notify all ticket buyers for 2020 again in the next few days with information on a possible refund," said the organizers. The organizers leaked the fact that the majority of the acts will be playing next year and would like to take this opportunity to thank the artists for their flexibility and understanding.
Despite the postponement of the event, there is also an official festival shirt for this year - but it was so popular that it is currently sold out. "The first shirts will reach their customers in the next ten days. We will bring another edition online soon. There are also other motifs in the works." Merchandise is available here: bit.ly/taubertal_merch. After the festival is always somehow before the festival.
Source: Press Release