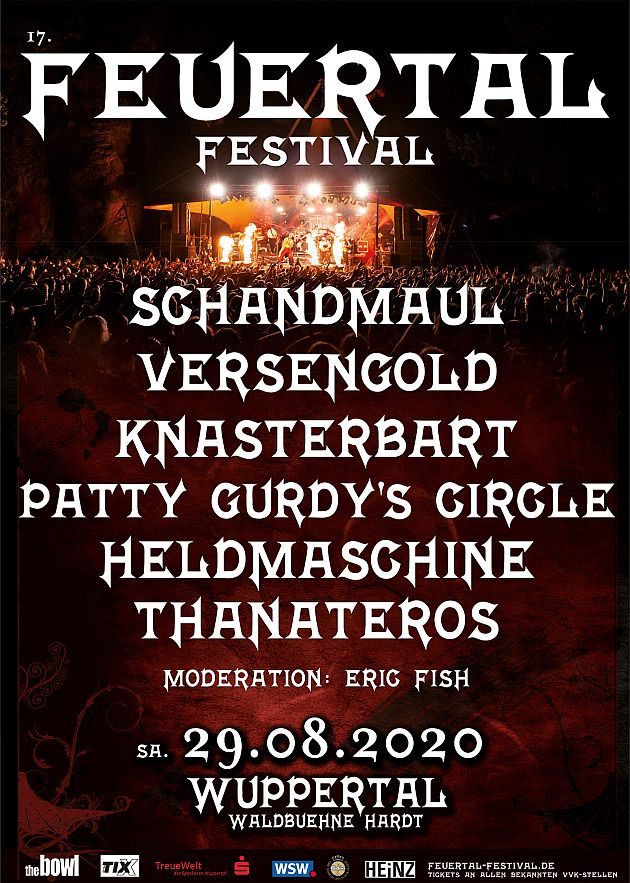 Atmospheric place of longing will only open its doors again in 2021 - Festival must be moved from this year to August 28, 2021 - Line Up remains largely the same - Tickets remain valid
If you buy a ticket for the Feuertal Festival in Wuppertal, you are also buying a ticket for an atmospheric journey through time into a distant world that has long been thought to be forgotten. Until the trip starts again, time travellers have to be patient: due to the current situation, the Feuertal Festival has to be postponed by one year and will take place again on August 28, 2021.
With one exception, the line-up remains as planned. 2021 will be part of it: SCHANDMAUL, VERSENGOLD, KNASTERBART, PATTY GURD'S CIRCLE and THANATEROS. Unfortunately, next year HELDMASCHINE cannot be on stage. Instead of them, THE O'REILLLYS AND THE PADDYHATS will create the mood.
Already purchased tickets remain valid. Nothing else will change for visitors to the open air, which had been sold out in advance for years: medieval hustle and bustle, a breathtakingly atmospheric location and the who's who of the Medieval Rock scene. The organizers are not only going back to the roots programmatically, but also in terms of the period. Despite the one-day event duration, the campsite will still be open for three days. In addition to the already traditional and particularly atmospheric medieval market, there will be already on Friday evening a warm-up program in the outdoor pool, details of which will be published shortly.
The open air event on the Waldbühne Hardt, where everything revolves around Medieval Rock and a breath-taking historical atmosphere, has long had cult status inside and outside the scene. Next to the main stage, there is again a traditional medieval market and invites you to browse through times past. In addition to handicrafts and all sorts of beautiful things, there is also a magnificent gourmet mile, which takes care of your physical well-being in the spirit of medieval hospitality - for two whole days the area in the heart of Wuppertal is transformed into a hustle and bustle. And with a bit of patience, it will certainly feel like it will be back soon.
Source: Press Release