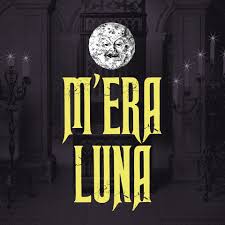 Here is some news from the festival: "Do you know what has really moved us in the past few weeks? All the news about social media, all the comments and all the emails that you sent us with perseverance slogans, throwbacks and anecdotes from past festival years. In all the crappiness that the current situation brings for us as festival organizers, these mostly digital hugs shone like silver strips on the horizon. Many of you have even asked how they can support us, whether we print special merch for this situation or just whether it helps if you keep your ticket, even if there is no M'era Luna 2020.
And it's true: This situation is not only a catastrophe for us as a festival team, but also for us as organizers. We had to cancel seven festivals this summer, as well as countless tours, local concerts and shows. And not only does the gaping hole, which is actually supposed to be a festival season and we should jog in rubber boots over any airfield, feel strange, but also the view into the future.
Do you want to know how you can best help us? It's simple: keep your ticket, rewrite it to 2021 and come celebrate with us next year! This gives us the maximum possible planning security that we and our artists can only wish for in this situation. When this whole vermilion is over, we will organize a party for you that would be worthy of a king - we promise!
M'ERA LUNA: AUGUST 7 + 8, 2021

Of course we are aware that you may not all be able to do this, which is why we have been working feverishly over the past few weeks on a ticket platform that provides you with various solutions for your 2020 tickets. By the way, there are also the first bands for 2021! For the M'era Luna, the platform goes online between May 26th and 29th, 2020, and you have three options:
Rewrite to 2021!

You just want to celebrate twice as extravagantly next year? Excellent - we do too! Simply rewrite your ticket to 2021 free of charge and top it off with an exclusive supporter shirt! By the way, rewriting is not only the most rewarding, but also the most helpful action if you want to help the festival, artist and concert industry.
Voucher!

You can't go next year, but are you longing for concerts? Then get a voucher that you can redeem for almost all FKP Scorpio concerts and festivals at www.fkpscorpio.com! By the way, this option helps us considerably to be able to organize festivals, concerts and shows in the future.
Money back!

In the past few weeks, you have been very patient with us and that is why we would like to return this solidarity. We have decided to offer a money-back option in addition to the legal requirements. However, since we also feel obliged to our partners, we will retain a sum of € 10 per festival pass with this form of reimbursement, which will be donated 100 percent to our friends from Viva con Agua.
IMPORTANT: You must have decided on one of the three options by June 21, 2020!

We have also made extensive FAQs available to you, which are continuously updated:
https://www.meraluna.de/de/ticket-faq/allgemein
"
Source: M'era Luna