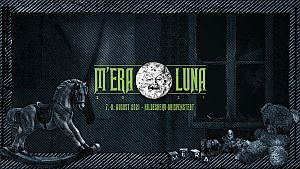 Good news for all guests of Europe's largest Gothic festival: All confirmed acts, including ASP, DANZIG and THE SISTERS OF MERCY, have confirmed their participation for the edition of the coming year. Thus, the organizer FKP Scorpio created planning security for all visitors to the M'era Luna just a few weeks after the entire festival summer had to be cancelled due to the corona pandemic. The system for rewriting or exchanging tickets will also be available to all ticket holders this week.
"We are very happy that we were able to reward the solidarity and patience of our guests in this way," says Stephan Thanscheidt, booker and CEO of FKP Scorpio. "The quick re-confirmation of our entire line-up as well as the three-stage ticket solution for our visitors would not have been possible without a great effort on the part of our team and our artists. Thank you to everyone involved, but especially to our guests, who stayed loyal to us during this difficult time with a lot of support."
There are three options available to all ticket holders: they can easily have their tickets rewritten online to 2021, or they can choose a voucher according to the requirements of the federal government. In addition, and beyond the legal requirements, FKP Scorpio also offers the possibility of a direct monetary reimbursement. More information is available at www.meraluna.de. IMPORTANT: You must have decided on one of the three options by June 21, 2020!
Line-up

ASP vs. The Little Big Men | Danzig | The Sisters Of Mercy | Nitzer Ebb | Blutengel | Schandmaul | The Mission | VNV Nation Classical | Covenant | The Lord Of The Lost Ensemble | The Crüxshadows | Front Line Assembly | Feuerschwanz Megaherz | Nachtmahr | Rotersand | Coma Alliance | Haujobb | Faderhead | Diorama | Ost+Front | Unzucht | The Cassandra Complex | Solitary Experiments | Tyske Ludder | Soman Noisuf-X | The Beauty Of Gemina | Qntal |Schattenmann | A Life Divided | Then Comes Silence | Chrom | Ambassador21 | Aeverium | Hell Boulevard | Rave The Reqviem | Oul | Adam Is A Girl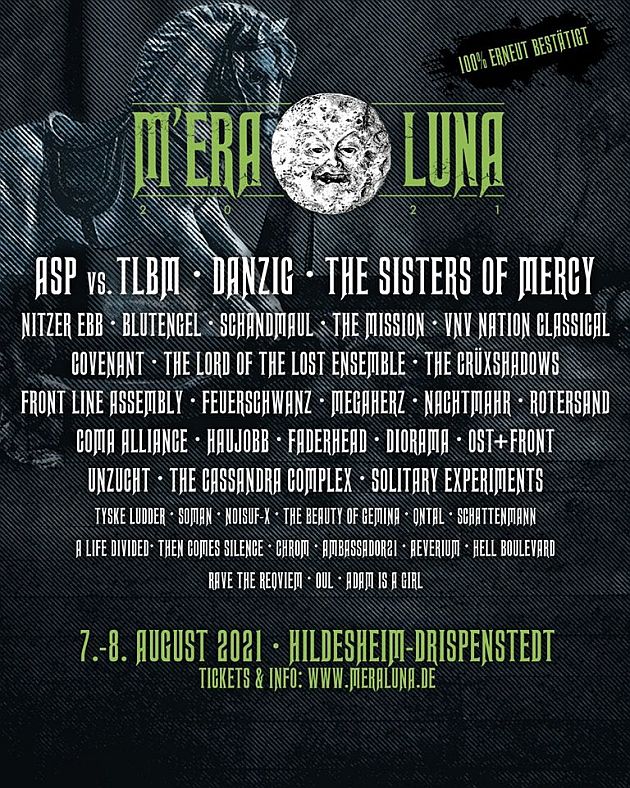 Source: Press Release