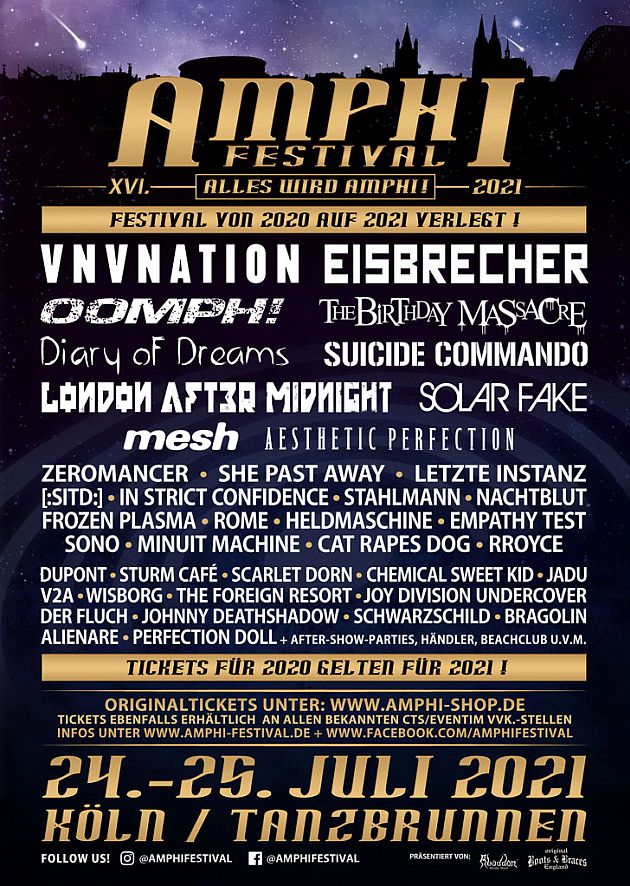 Directly from the promoter: "Dear Amphi Family. Thank you very much for your patience regarding news on the Amphi Festival 2021. After some very challenging weeks, the moment has finally come at which we can slowly allow ourselves to look forward again and to present you the full line-up for 2021. Thanks to the flexibility of all involved artists and agencies we can keep this matter pleasingly short. All bands announced for the 2020 line-up will catch up on their appearances in 2021! Additionally, all day ticket owners among you will be excited to read, that the original allocation of the bands by days will remain unchanged as well.
So, let's have a look at the fully restored line-up again, including: VNV NATION + EISBRECHER + OOMPH! + THE BIRTHDAY MASSACRE + DIARY OF DREAMS + SUICIDE COMMANDO + LONDON AFTER MIDNIGHT + SOLAR FAKE + MESH + AESTHETIC PERFECTION + ZEROMANCER + SHE PAST AWAY + LETZTE INSTANZ + [:SITD:] + IN STRICT CONFIDENCE + STAHLMANN + NACHTBLUT + FROZEN PLASMA + ROME + HELDMASCHINE + EMPATHY TEST + SONO + MINUIT MACHINE + CAT RAPES DOG + RROYCE + DUPONT + STURM CAFÉ + SCARLET DORN + CHEMICAL SWEET KID + JADU + V2A + WISBORG + THE FOREIGN RESORT + JOY DIVISION UNDERCOVER + DER FLUCH + JOHNNY DEATHSHADOW + SCHWARZSCHILD + BRAGOLIN + ALIENARE + PERFECTION DOLL
UPDATE REGARDING TICKET PRE-SALE FOR 2021
Unfortunately, we are left with no other choice than to soften the additional financial burden, caused by the Corona-crisis, with a slightly increased ticket price for the Amphi Festival 2021. However, you still have the opportunity to secure your Amphi tickets at their original 2020 price until 15. June 2020. This coincides with the 2020 tickets still being available at our Amphi Shop at www.amphi-shop.de until this day. Those of you who have already purchased a ticket for 2020 are of course still perfectly supplied. The tickets will remain valid for 2021 WITHOUT ADDITIONAL CHARGE (!). We still plead to keep your tickets if possible. If you can't make it to the festival date 2021, please contact us by mail via
This email address is being protected from spambots. You need JavaScript enabled to view it.
as of 14.06.2020. On 16. June 2020 the ticket price for weekend tickets will increase to 89,00 Euro (plus pre-sale fee and shipping) and for day tickets to 60,00 Euro (plus pre-sale fee and shipping). Please be advised that the pre-sale for 2020 was already very well advanced. Consequentially this means there is only a limited number of tickets remaining for 2021.
So much for today's news. We wish you all the best and please get through summer in good health!
Kind regards
Your Amphi Festival Team"
Source: Press Release