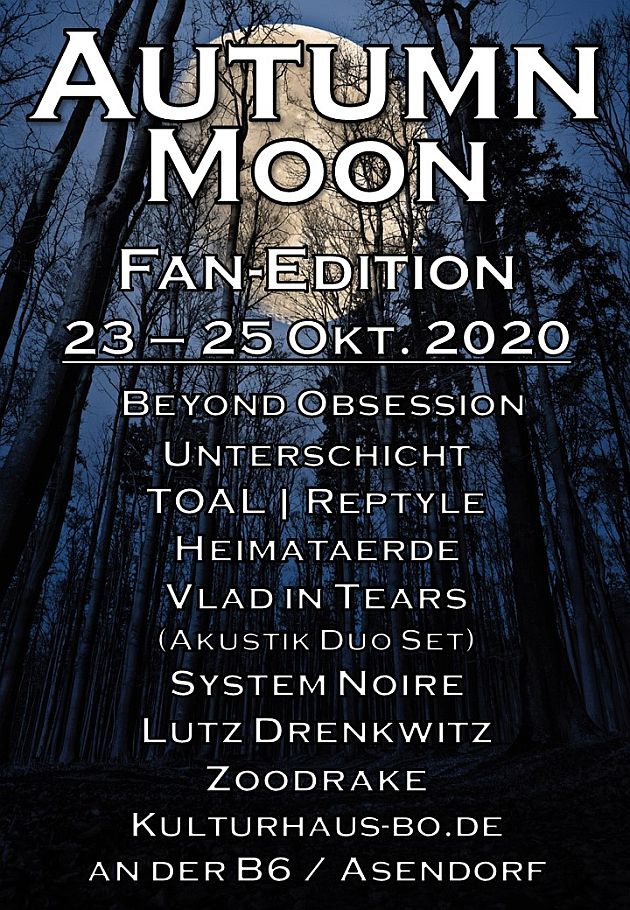 Since the AUTUMN MOON Festival in Hameln has to be cancelled due to Corona, the organizers have decided to hold a small consolation festival at the Break Out club in Asendorf. On October 23-25 the Autumn Moon Festival would have taken place. Unfortunately, promoters had to postpone the normal edition due to the Corona pandemic. But they still want to conjure up a festival feeling and want to offer your music and their ambience to the great fantastic fans, that have not returned their tickets during this weekend. With the Autumn Moon "thanx mini edition", a small festival edition in the north, they want to say thank you and ensure a little normality and festival experience.
They run a club with a culture beer garden and stage in Lower Saxony, south of Bremen, in which they live in small Gaul since May 16 and organize colourful events every weekend. They have a small area that they design to celebrate an Autumn Moon "thanx mini edition" at 3 stages, 2 of which are outdoor. Promoters want to offer a safe little setting for the fans in these times, thank you for your loyalty and present you this gift. There is no ticket needed. But please make a reservation on the website
www.kulturhaus-bo.de
so that they know how many of you are coming!
Date: 23 to 25 October
There is your music.
Free entry.
There is food and drink.
Check Facebook to stay up to date:
https://www.facebook.com/AutumnMoonHameln
Source: Press Release