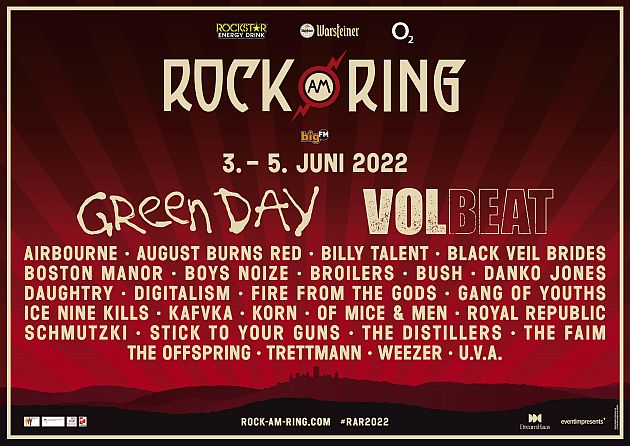 Finally some really good news! You can now secure your ticket in the regular advance sale and we can present you the first acts for 2022. Many artists are just as tired of the never-ending forced break as you are and can hardly wait to ring in the festival summer next year with a bang with you. In addition to acts that will remain steadfastly loyal to you next year, there are also a few gains to the line-up in alphabetical order:
Airbourne | August Burns Red | Billy Talent | Black Veil Brides | Boston Manor | Boys Noize | Broilers | Bush | Danko Jones | Daughtry | Digitalism | Fire From The Gods | Gang Of Youths | Green Day | Ice Nine Kills | Kafvka | Korn | Of Mice & Men | Royal Republic | Schmutzki | Stick To Your Guns | The Distillers | The Faim | The Offspring | Trettmann | Volbeat | Weezer and many more.
The ticket swap is in full swing. So don't forget to exchange your ticket. And for everyone who doesn't have one yet: The Rock am Ring Weekend Festival Ticket is now available for € 209.00 and the Camping / Parking Ticket, which you have to buy separately, for € 50.00. All information and tickets available as always at www.rock-am-ring.com.
Even if it is still some time until June 2022, perseverance is the order of the day - the silver lining on the horizon is getting lighter and brighter and things can't go fast enough for us. In the meantime, promoters will of course continue to work diligently on the line-up in order to sweeten the long dry spell very quickly with many other delicacies - old and new - a little. To be continued...
Information and FAQs about the ticket swap are also available on www.rock-am-ring.com/info/faq.
Swap your tickets: https://www.rock-am-ring.com/ticket-swap
Source: Press Release