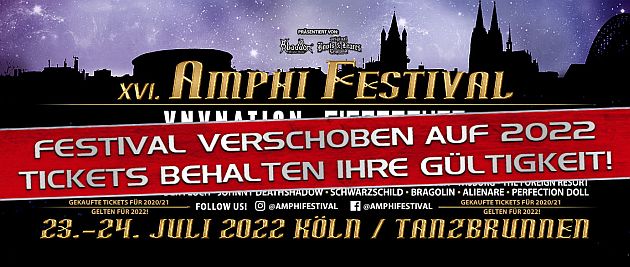 This year's festival is cancelled due to the Corona pandemic. Please read the information from the festival promoter:
"Dear Amphi Family,
well, what can we say? Apparently, the situation caught up to us after all! We all have greatly been looking forward to this year's Amphi Festival and to the uplifting experiences associated along with it. Dancing, singing, meeting friends we haven't seen in a long time... wow! Nevertheless, the (also politically) ever-changing pandemic situation still leaves a multitude of uncertainties and question marks, all of which could spoil our great reunion and the intended festival enjoyment literally up to the very last minute.
Although the festival isn't set to happen until the end of July, we reached the point now at which it turned evident at plain sight, that, if ever, our beloved Amphi could only take place under massive safety restrictions. Your safety as our dear festivalgoers and the safety of all bands, employees, merchants and media partners are our first priority.
The necessary steps, in order to generate said safety, completely contradict the experience we want to provide you with the Amphi Festival: family, friendship, freedom! So long everyday life - hello festival! Blissful escapism recharging body and soul. Instead of all this, it would become a festival in permanent vigilance and if ever we were allowed to open all stages, still a constant risk of an untimely ending would loom over the entire festival. After all the patience you have proven up until this point, you deserve better!
However, don't worry! Even though we are left with no other option than to heavyheartedly cancel the Amphi Festival 2021, the Pre-Party and Call The Ship To Port for this year, we continue the fight and prepare for another run-up in 2022. In search of a new date for the next edition of our dear Amphi Festival we can finally confirm the weekend of 23. & 24 July 2022. Also Call The Ship To Port and the Amphi Pre-Party will return on 22 July 2022.
We are glad to announce that already over 90% of all bands from the present line-up have confirmed to play next year! Meanwhile we are diligently in contact with the remaining bands and will presumably be able to give you the final state of the line-up at some time in June 21. So don't hesitate to stop by at our website www.amphi-festival.de or our social media channels for possible updates in the near future. As we speak of line-ups, all bands of Call The Ship To Port and all DJs of the official Amphi Pre-Party already confirmed their appearances next year.
Of course, all purchased Amphi, Call The Ship To Port and Pre-Party-tickets of 2020 and 2021 remain valid! Just keep your tickets to be part of the festival in 2022 without further ado. Indeed, we urgently ask you to hold on to your tickets! What went for last year goes even more for the present situation: we depend even stronger on your continued support, to make it through this additional Corona-related "victory lap". The best way you help us keeping the lights on is to keep your tickets or, if you don't already own any, to head over to www.amphi-shop.de and secure yourself one (or some) of the remaining tickets for 2022.
Let us stay strong together and may the spark of our solidarity ignite the flame of hope again! Everything will turn out well, as long as we stand our ground! And above all, please stay healthy, so we may all gather and celebrate again light-heartedly in 2022!
Kind regards
Your Amphi Team"
So dear readers, stay safe and we will all meet at Amphi 2022!
Source: Press Release